St. Patrick's Day is a day where people can have craic while enjoying a nice size pint or two or maybe three. Heck, have as many pints as you want. No doubt patrons will be adorned in their best St. Patty's Day green apparel and looking to "get lucky" with some lucky charms this festive holiday. Here are ten notable places to enjoy laughs while having a nice glass of Guiness and maybe finding Lady Luck.
Durty Nelly's
According to its website, the establishment is a replica of the original in Limerick, Claire County, Ireland. The concept was created after Bill Hunter, then general manager of the Hilton Palacio del Rio, visited the original establishment. Durty Nelly's offers draught beer such as Guiness, Bass Ale, Harp, etc in pints and half pints. Piano entertainment will be offered after 4 p.m. Located on 200 S Alamo St.
Waxy O'Connors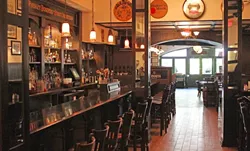 In the heart of the River Walk, Waxy's gives you an authentic feel of Ireland. Patrons can enjoy a beautiful view of the river while engaging in craic and watching sports on big screen high definition televisions. Live music and 20 ounce pints are offered.
The Irish Pub
Located in the Medical Center area on 9726 Datapoint Dr., friendly bar service and a quaint atmosphere can energize a crowd. A juke box is available for patrons who want to Texas Two-Step instead of Irish dancing.
Pat O'Briens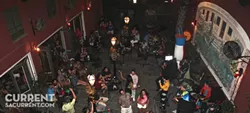 The bar's famous Hurricane drinks can make you get your happy Irish dance on real quick. The festive vibe of New Orleans is present at Pat O's as piano and lounge entertainment is available for patrons. If you're looking for that extra kick in your system, the bar offers The Skylab, which is contains vodka and is blue, and the Cyclone, which is a blend of Pat O's Cyclone Mix and Vodka. The address is 121 Alamo Plaza.
Sherlocks Pub & Grill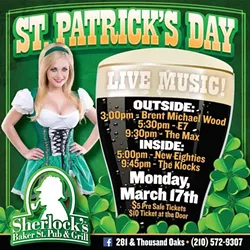 Live music and beer on tap is what makes Sherlocks hot. You can watch sports, play darts, and enjoy a nice meal. Located on 16620 U.S. 281.
Stone Street Pub & Bistro
The celebration is all day, all night at Stone Street. Hours are from 11-2 a.m. on the festive holiday. The establishment will offer $3 Two Gingers Irish Whiskey, Svedka Vodka, $4 Guiness and Black & Tans, $4.75 Jameson and $2.75 domestic beers. The address is 1827 N Loop 1604 E.
Shenanygans Sports Bar & Lounge
Patrons will have a chance to get really "lucky", as they have the opportunity to win money during a balloon drop giveaway. There will be $2 Dos XX, $3.75 Baby Guiness shots, and $4 Jameson on special. DJ Davi-D will be in the house. There is no cover charge. The location is 6422 Babcock Rd.
Club Sirius
This intimate establishment will offer $3 Budweiser and Bud Light green pints and $3 jager. There is no cover charge. DJ Slic Ric will be turning the tables beginning at 7 p.m. The address is 228 Losoya St.
Fox & Hound
Hang out with the friendly Fox & Hound staff, as they adorn St. Patrick's Day gear to serve you $2.25 Coors Light draft, $3.25 Sam Adams draft and $4.25 Absolut drinks all day and night. A DJ will be in the house. The location is at 12651 Vance Jackson Rd.