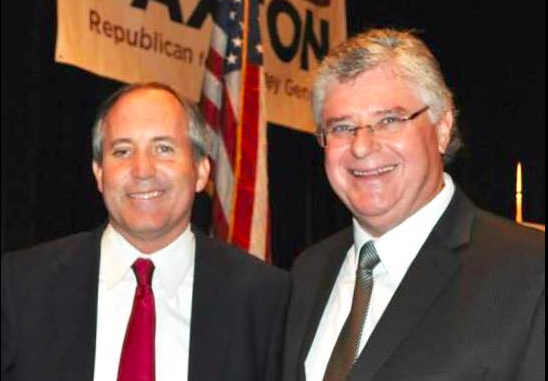 Facebook / Andrew D. Leonie
Leonie (R) with Texas Attorney General Ken Paxton
Update 5 p.m.

Andrew Leonie has resigned, no more than four hours after the
Dallas Morning News
initially broke this story.
Marc Rylander, a spokesperson for the Office of the Attorney General, released a statement around 4:30 p.m. confirming his resignation.
"The views [Leonie] expressed on social media do not reflect our values," he wrote. "The OAG is committed to promoting and maintaining a workplace that is free from discrimination and harassment."
—
Original story

According a top attorney working for Texas Attorney General Ken Paxton,, the growing movement of women speaking out about sexual harassment with the "metoo" hashtag is "pathetic" — and not to be trusted.
In a Wednesday Facebook post (
first noted
by
Dallas Morning-News
' Lauren McGaughy), Associate Deputy Attorney General Andrew D. Leonie wrote: "Aren't you also tired of all the pathetic 'me too' victim claims? If every woman is a 'victim', so is every man. If everyone is a victim, no one is. Victim means nothing anymore."
It's the textbook definition of victim blaming — in this case, making a victim of sexual harassment feel like the abuse was their fault. It's a surefire way to undermine anyone who comes forward with accusations in the future. Ironically, this kind of sweeping victim blaming is the very issue the #metoo movement is responding to.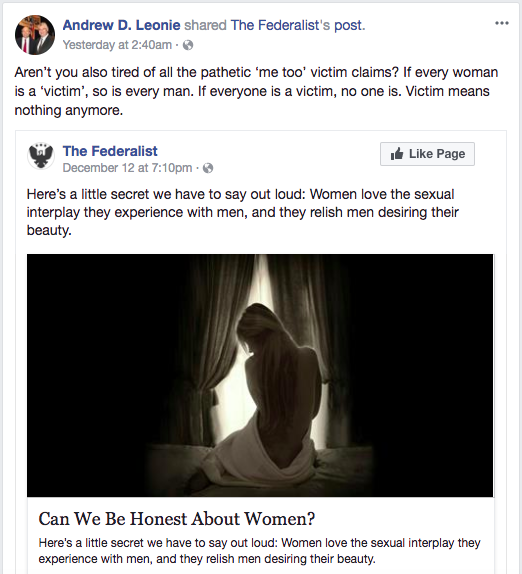 With his Facebook post, he linked to a Federalist article titled "Can We Be Honest About Women?" on why women are asking to be objectified, and ultimately, harassed by men.
"Women love the sexual interplay they experience with men, and they relish men desiring their beauty," writes D.C. McAllister, an anti-abortion advocate who writes for the Federalist. "Why? Because it is part of their nature."
Leonie, who's often represented Texas in court, has made it painfully clear how he'd handle a sexual harassment claim against the state.
Other posts on Leonie's social media reflect his strong support of accused child abuser Roy Moore — he even shared a post claiming that Moore had won the Alabama election Tuesday (he didn't). He also called for his followers to "boycott San Francisco" because Leonie, an attorney who we assume went to law school, didn't like the results of a San Francisco court's
not guilty verdict
for the undocumented immigrant accused of killing a woman, a case that President Trump attempted to use as an example of anti-immigrant policies. To round it all out, he's shared Tweets attacking women who've accused Trump of assault while making blatant jokes about "groping."
It appears he also hates journalists.