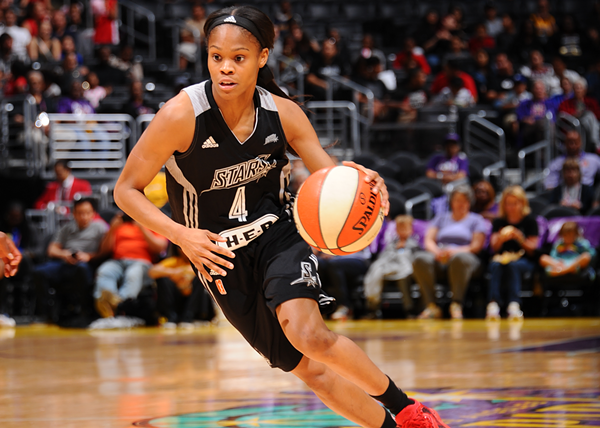 Three months ago, Moriah Jefferson and Breanna Stewart made history as part of the University of Connecticut women's basketball team by winning an unprecedented four straight NCAA Championships.
They've been to the White House so many times that they're on a first-name basis with Barack Obama.
On Friday, they'll be opponents at the AT&T Center.
Jefferson and the San Antonio Stars host Stewart and the Seattle Storm at 8 p.m., pitting the No. 2 and No. 1 WNBA draft picks and former teammates against each other for just the second time this season. Tickets start at just $10 at SAStars.com for Friday night's game, which is also a $1 Drink Night presented by Bud Light and the San Antonio Current.
"It's been really weird, especially not being on the court with her," Jefferson said. "I guess you could say that my movements and motions got so used to playing with her. I definitely miss playing with her but it was time to move on in our careers and hopefully somewhere down the line - maybe Team USA or something like that - we'll get to play with each other again."
The 2015-16 Huskies are up for an ESPY this month for Best Team after making history with the most wins over a four-year period in NCAA history, and going undefeated during the 2015-16 season. Stewart has also been nominated for Best Female Athlete for her contribution to the team's 151-5 four-year campaign, and UConn Head Coach Geno Auriemma is a Best Record Breaking Performance nominee after his 11th national title with the Huskies.
Jefferson and Stewart continue to stand out on the court, now on separate teams in their first season in the WNBA. When the Stars battled to a 77-70 victory over the Storm in San Antonio on June 14,
Jefferson (64.3 FG%) and Stewart (27.8 FG%) each led their teams with 19 points as the Stars (45.3 FG%) held the Storm to 32.9% shooting from the floor. Friday's game is the final time the two teams will play in San Antonio during the 2016 regular season.
Tickets can be purchased
here
.