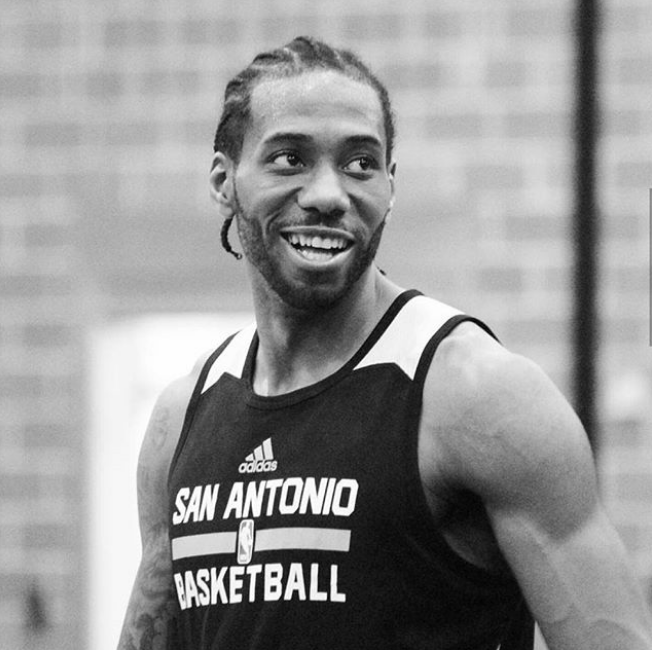 Instagram / kawhileonardofficialfanpage
The pettiness of the Kawhi Leonard/Spurs
novela
continues.
Despite getting traded more than a month ago, Leonard still had a presence of sorts within the Spurs organization up until yesterday.
Sports news outlets
allege that one of Leonard's best friends was a part of the Spurs support staff, but now he's following the superstar to Toronto.
Sources: The Raptors are hiring Spurs assistant video coordinator Jeremy Castleberry as a player development coach. Castleberry earned degree at SDSU, worked his way up in Spurs system from video room.

— Shams Charania (@ShamsCharania) August 20, 2018
ESPN reports
that the Raptors are hiring Jeremy Castleberry, who until Monday served as the Spurs' assistance video coordinator. He played with Leonard at San Diego State and was his personal rebounder during shootaround. The Spurs hired him in 2013 after he graduated.
Castleberry won't be on the video front anymore, though. He'll be putting his basketballs skills to good use in his new role as a player development coach in Toronto.
Experts say the move will help Leonard deal with playing in Toronto, which he showed no excitement for when he was traded. Social media users were quick to call out Raptors' move.
What if kawhi still leaves next summer lmaoo...

— Lauri Markkanen's Burner (@laurilegend24) August 20, 2018
Well, if Kawhi leaves after this season, it won't be because the Raptors didn't do everything they could to make him want to stay in Toronto.

— Mike Chamberlain (@Lionelvinyl) August 21, 2018
"worked his way up" that's Kawhi's guy 🙄

— Anthony Allen (@TheAntho815) August 20, 2018
Well that plan didn't work for the Spurs why will it work for the Raptors?

— fherni (@fernandocortez1) August 21, 2018
ESPN writer Zach Lowe said that despite the Spurs seeing potential in Castleberry to be a good coach down the line, the move is probably better to be completely done with the Leonard era.
Granted, it would have been pretty awkward for Castleberry if he had stayed in San Antonio. Reports don't give any insight as to who initiated Castleberry's career change.
Stay on top of San Antonio news and views. Sign up for our Weekly Headlines Newsletter.