Courtesy
The Luxury
Fries aren't a side dish, they're a sidekick. Legit superheroes (or villains) need an equally legit sidekick by their side — burgers are no different. They're numero uno in an effective one-two punch combination. The tasty burger serves as a delicious right cross. But some fries in San Antonio are so good that they can deliver a knockout blow on their own.
The Luxury
103 E. Jones Ave., (210) 354-2274
The Crack Fries ($4) from The Luxury are sprinkled with the right amount of sea salt and cracked black pepper to make them an irresistible stand-alone force to be reckoned with. Once you start eating these fries, it's hard to stop. Amazing fries should be crisp on the outside while staying soft inside and these guys do it right.
The Luxury gives the option of three sauces ($1.50) as patrons embark on their crack-fry journey: sriracha aioli, chipotle aioli and the over-the-top war sauce (honey garlic aioli, ketchup and onions). For the more adventurous, The Luxury also offers a scrumptious option of Crack Fries with two eggs on top for an extra $2.50.
OrderUp
999 E. Basse Rd., Suite 193, (210) 824-9600
Legend has it that OrderUp's fries ($2.25/$3.65) were inspired by traditional Belgian paper cone fries — so rich they don't require ketchup to eat, but rather a healthy dab of mayonnaise. These sodium sticks are lightly salted, crisp and with a semi-rough texture that doesn't reveal any sign of softness until you take a bite to expose their tender interior.
The Serrano Cheese Fries ($3.95/$5.25) — traditional fries drenched in a paper cone holder with some seriously spicy serrano queso, salsa and sour cream — from their handy dandy OrderUp favorites menu are where it's at, though. It's the kind of soak where you have to eventually rip the paper cone open to dip any stragglers in the surprisingly spicy queso that could give local Mexican restaurants a run for their money.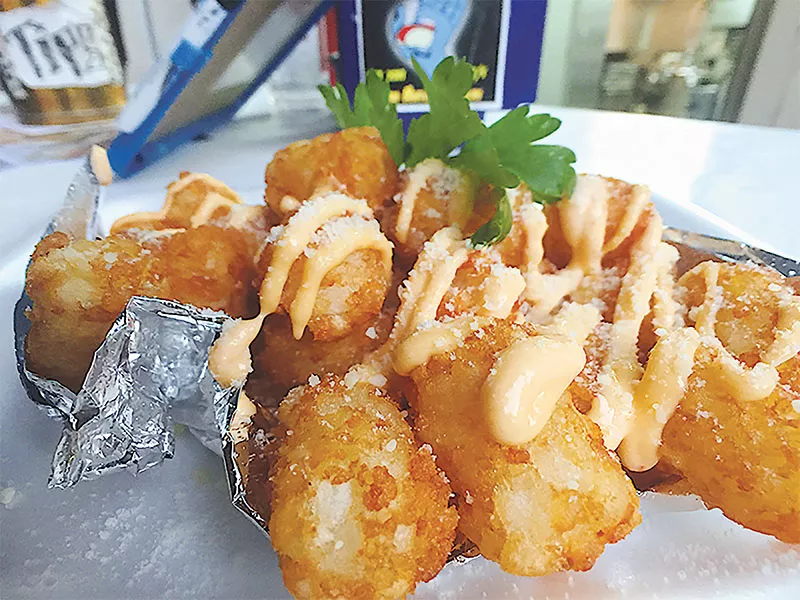 Courtesy
Rockerdogz
Rockerdogz "Gourmet Street Dogz"
Multiple locations
Chef Kris Martinez has made quite a name for himself and his famous "Gourmet Street Dogz" by setting up his iconic cart outside some of San Antonio's favorite spots. His tots ($4) look and taste as if each one was individually and separately made for his customers. Crunch after mouthwatering crunch of sriracha- and parmesan-topped crisp tots give way to their soft insides. Speaking from experience, it can sometimes be a bit of a hassle to track down the Rockerdogz cart (chef plans are often derailed by the weather, though he's setting up a permanent camp at the Korova these days), but believe me when I say that's it's definitely worth the search.
Beto's Comida Latina
8142 Broadway St., (210) 930-9393
The menu at Beto's Comida Latina is overflowing with tasty choices, but hiding in plain sight among other sides is their yuca frita. The red cayenne generously sprinkled on top is the first ingredient to infiltrate your palate, delivering a sturdy punch right up until you bite into the crispy exterior of the fried yuca root.
At first taste, the yuca frita is reminiscent of all the good things found in a full bite of a tasty fried burrito (one of my greatest road trip guilty pleasures) minus the meat and health risks. When paired with Beto's cilantro-filled chimichurri sauce, this side graduates to full-blown appetizer status.
Taps y Tapas
1012 N. Flores St., (210) 277-7174
The mountain on a plate that is known as the carne asada cheese fries ($10) from Taps y Tapas are layered both visually and in taste. The pickled red onions, cilantro, queso fresco, blue cheese and carne asada make the appetizer a sight to see and dish to enjoy. The mountainous mixture of Mexican ingredients served within a texturally palate-pleasing scaffolding of fries, deliver individual attacks to your taste buds. It's not what I was expecting when I typically think of cheese fries, but they were still quite impressive.
Courtesy
Cullum's Attaboy
Attaboy
609 S. Alamo St. & 1338 E. Houston St.
Currently residing within Alamo Street Eat Bar on South Alamo and inside Tucker's Kozy Korner, Cullum's Attaboy's silver Airstream trailer has been dishing out some of the tastiest burgers our city has got to offer. Attaboy's sweet potato fries ($4) are the absolute crispiest a fry can get without breaking the laws of physics (or at least that's how they seem to feel/taste when crunching into them).
The revelation of the moist and fresh sweet potato filling mid-bite is the perfect contrast to its salt and pepper tempura-ish coated crisp, crunchy shell. I enjoy taking photos and trying to capture what I experience in words, but the sweet potato fries make me wish there was a way to record and replay tastes over and over in my head like a good song.
Now that's what I call #GorditoProblems.