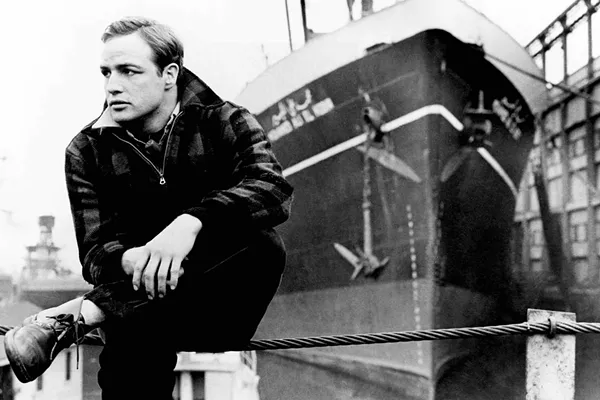 Columbia Pictures Corporations
Routinely hailed as one of American cinema's great dramas, 1954's
On the Waterfront
intersects many important careers. Marlon Brando gives one of his defining performances (in a career marked by them) as the lost but likable ex-boxer and dockworker Terry Malloy, who's just starting to realize that he made a bad decision years ago. He "coulda been a contender" but he settled for being "a nothing," and now his resentment, the love a good woman (Eva Marie Saint) and the encouragement of a priest (Karl Malden) is helping him bring down a corrupt union represented by Rod Steiger and Lee J. Cobb.
Inevitably, the script by Budd Schulberg and direction by Elia Kazan cause critics to draw comparisons, apt or otherwise, with Kazan's situation as a "friendly witness" in the House Un-American Activities Committee hearings, although it's possible to read that angst in more ways than one. Featuring Leonard Bernstein's only original film score, the film (which screens as part of Texas Public Radio's Cinema Tuesdays series) won eight Oscars and has been drafted into the National Film Registry.
$10-$15 suggested donation, Tue Jul 3, 7:30pm, Santikos Bijou, 4522 Fredericksburg Road, (210) 614-8977, tprcinema.org.

Get our top picks for the best events in San Antonio every Thursday morning. Sign up for our Events Newsletter.