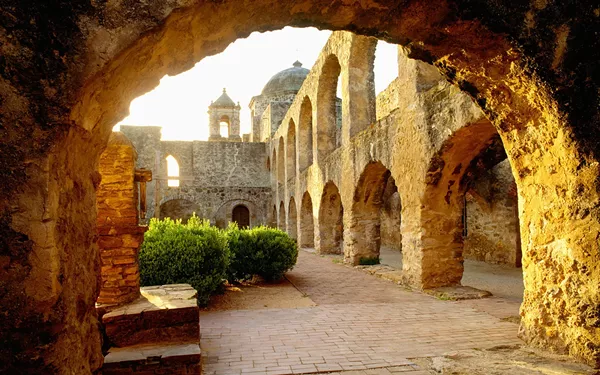 George H.H. Huey
The Missions' World Heritage Site designation has caught the attention of travel experts.
Travel + Leisure
has named San Antonio as
one of the best places to travel to in 2016
. Our fair city is included in a list of exotic locals that include Borneo, Zimbabwe, Siberia and ... Richmond, Virginia. San Antonio was included as a city that deserved a second look, according to the editors, who noted the opening of Hotel Emma at Pearl and the renovation of the St. Anthony Hotel and the Missions World Heritage Site designation as reasons to visit.
Here's what they wrote about the Alamo City.
They're only 80 miles apart, but for decades San Antonio has been Austin's more mature (but less cool) sibling. Alamo City locals have happily played second fiddle because they like flying under the radar, but now San Antonio is overturning its sleepy stereotype. In November, the historic St. Anthony Hotel downtown opened after a multimillion-dollar renovation. This overhaul follows an epic project that converted the River Walk from a congested tourist trap into 15 miles of trails that connect the city's Spanish missions (just named a World Heritage site) to the Pearl up north. The Pearl, once a 23-acre brewery complex, is now a neighborhood brimming with locally owned shops and acclaimed restaurants, in addition to a Culinary Institute of America campus. Travelers can finally stay on its historic grounds at Hotel Emma, an independent boutique inside the former 1894 brewhouse. You'll see the Roman & Williams aesthetic in the lobby, where ammonia tanks once used to cool Pearl beer sit on replicated Redondo tiles, and the guest rooms combine leather chairs with cement floors and exposed beams. The hotel has two restaurants: Supper, which specializes in grilled meats, and Larder, for grab-and-go baked goods, flowers, and beer. Ready or not, San Antonio, you're becoming cool.
So they invited everyone to crowd around the Riverwalk and especially the Pearl, but not much else. So as long as they don't venture outside of downtown looking for a reasonably priced breakfast taco, we should be fine. Here's hoping that your favorite Pearl spot doesn't get overcrowded in the coming year with the influx of
Travel + Leisure
subscribers.