Father's Day is coming up, and don't you dare buy him another tie, wrench or hedge-trimmer. Show him you care with one of the many specials that SA eateries are offering up for your old man. Here's a round-up of some of our favorite options.

At The Pearl

Southerleigh Fine Food & Brewery

136 E. Grayson St., (210) 455-570, Sunday brunch from 10am-4pm

In its beautiful historic venue, Southerleigh is offering all fathers in attendance of their brunch a complimentary glass of their craft Gold Export beer. It's the perfect companion for some sweet beignets or crumbly biscuits and gravy from their new brunch menu. Since their hours coincide with the Pearl Farmers' Market, reservations are highly encouraged.

Bakery Lorraine
306 Pearl Pkwy., Suite 110, (210) 862-5582, 7am-8pm
To punctuate some coffee, yogurt and granola, or delicious quiche, Bakery Lorraine is offering a Father's Day-only macaron flavor. For one day only, dads can try the ultra-masculine Dark Chocolate Tobacco Whiskey macaron. We can only wonder what that tastes like.


400 E. Josephine St., (210) 224-6169, 11am-7pm
Usually closed on Sundays, Josephine Street is opening its doors f0r those dads itching for some steaks. Keep an eye out for the New York Strip, sirloin and onion rings during these special hours.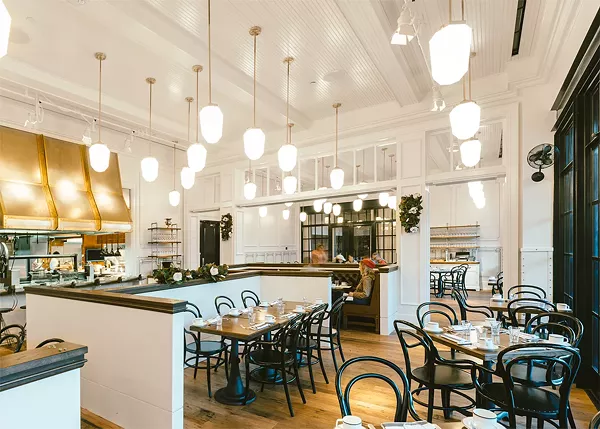 Supper at Hotel Emma
136 E. Grayson St., (210) 448-835, Breakfast: 7am-10am Lunch: 11am-2pm Dinner: 5pm-10pm
Open for three meals, Supper is offering all fathers a complimentary beer. Whether they pair it with local eggs at breakfast, the off-menu sandwich special at lunch or some prime rib at dinner, it's their delicious choice.


Green Vegetarian Cuisine
200 E. Grayson St., (210) 320-5865, 9am-9pm
For breakfast, lunch, or dinner Green is offering a complimentary vegan cupcake for all fathers in attendance. Treat your man to some meatless sesame chicken or a whopping Green burger and his dessert is on the house.
Nao Latin Gastro Bar
312 Pearl Pkwy., (210) 554-6484, 10am-4pm
From mid-morning until the mid-afternoon, Nao will be offering a special Father's Day savory platter ($50) and a special Father's Day sweet platter ($35) to feed two to three people. The bar will flowing with $4 bottled beers and a special $10 Papa Doble (double daquiri), and they'll still be serving their a la carte brunch menu. Bring an army and order both of the platters for dad.
Grayze
521 E. Grayson St., (210) 481-8776, 10am-3pm
The newest addition to SoBro/Pearl Brewery area is offering its own Father's Day Brunch for those looking for some boozy and meaty fun. For $25 a person, you and your hubby can enjoy a backyard barbecue brunch with full access to the bar. You'll be full and tipsy all day.



For a Roadtrip

Gristmill River Restaurant & Bar
1287 Gruene Road, Gruene Historic District at New Braunfels, (830) 606-1287
Open daily at 11am

For the priceless beauty of a drive through the Texas Hill Country with family, dads can enjoy a meal at the Gristmill River Restaurant & Bar featuring their off-menu special: Baby Back Ribs. Order a half rack or a full rack complete with a dinner salad & side and enjoy with a cold Shiner to boot — you'll be wishing Father's Day was more than once a year.
1601 Hunter Road, Gruene Historic District at New Braunfels, (830) 515-1281
Open daily at 11am
Visit Gruene Hall for free live music all day before heading to Mozies for lunch and sports. Featuring a panko Parmesan chicken with angel hair pasta in a chipotle cream sauce and eight all-sports TVs, this spot is sure to satisfy the most classic of Father's Day cravings.
1299 Gruene Road, Gruene Historic District at New Braunfels, (830) 515-1950
Open daily at 11am
Tucked into the trees of the Gruene Historic District, Cantina del Rio is the perfect Father's Day venue for some Tex-Mex flair. Dads can enjoy a Fish Taco Plate with grilled fresh fish, South Texas slaw, diced tomatoes, chopped red onion, cilantro, avocado, lime and a side of rice and beans. Finish off the meal with a frozen margarita, sangria or an ice cold beer for the finest of Father's Day fare.
In Southtown

1111 S. Alamo St., (210) 227-1187, Brunch served from 9am-2pm.
For a seriously good Father's Day meal head over to the Liberty Bar for a special menu for dads sporting everything from a sourdough waffle to an Oaxcan-style pork and chicken Stew. Finish off the meal with a cherry tart or Abuelita Ice cream and think about coming back for more — the special menu runs both June 18 and 19.
803 S. St. Mary's St., (210) 988-3093, Open Sunday 3pm-midnight, Late brunch is served from 3-7pm
Francis Bogside, the sister bar connected to restaurant Brigid, will be celebrating Father's Day with nothing but the classics — classic movies that is. The venue will be showing old action movies like Big Trouble in Little China and Commando while serving their late brunch menu in addition to a special menu of dad's favorites: roast with prime rib, smoked chicken and sausage.

La Frite Belgian Bistro
728 S. Alamo St., (210) 224-7555, Lunch: 11:30am-1:30pm Tue-Fri, Dinner: 6pm-10pm Tue-Sat
Since they aren't open on Sundays, La Frite will be offering a month-long special just for dads. With the purchase of a $15 lunch special, including choice of soup or salad, entree special of the day, and chef's special dessert, fathers get two free beers from the bar.
Around the City

2512 N. Main Ave., 210-562-3440, 2pm-1am
Simple but effective, Old Main Association is offering a 20 for $2o special on their wings for Father's Day. Pair this with some other teasers or small bites, and some wine or cocktails from their short but sweet list to show your old man a good time.
3920 Harry Wurzbach Road, (210) 821-5600, 11am-3pm
Treat that special man to some European bistro elegance with Crumpets' Father's Day special. The meal includes an appetizer, salad, entree, dessert and wine or champagne. If he deserves it, the Trilogy – beef tenderloin, lobster tail and rack of lamb – is a good way to show it.
The Brooklynite
516 Brooklyn Ave., (210) 444-0707, 6pm-2am

Daddy's day also coincides with National Martini Night, and the Brooklynite is paying homage to both. Guests are welcome to poker and $7 martinis all night long, with door prizes and food served by Say.She.Ate.