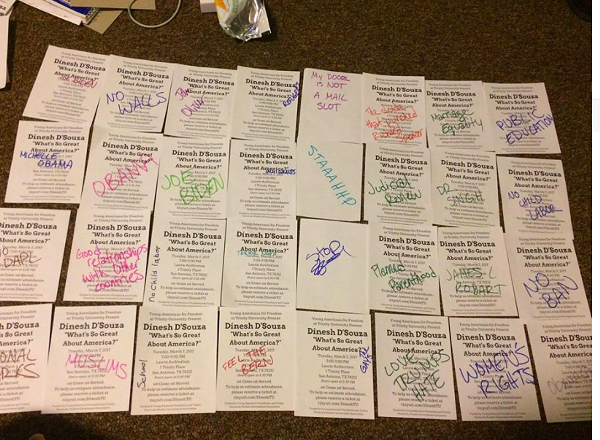 Shortly after Trinity University student Jonah Wendt distributed some 600 event leaflets across campus housing, 288 reappeared in front of his own dorm room door.
"Keep your propaganda to yourselves. We don't like it in our faces," a note read on top of the rubber-banded stack of returned leaflets. Wendt had passed out the fliers to advertise an upcoming event — hosted by his conservative student group, Tigers for Liberty — featuring conservative filmmaker Dinesh D'Souza. The event's title: "What's so great about America?"
Some students provided their own answers, scrawled in colorful ink, and returned the leaflets to Wendt. "Immigrants." "Public education." "National parks." "Women's rights." "The gays."
Wendt decided this was "harassment" and took the complaint to campus police.
"This is a clear attempt at intimidation," Wendt
told the Express-News this week.


The "harassment" at Trinity stands in stark contrast to what's been happening on other university campuses across the state — like the
anti-immigrant fliers
calling for
"vigilante squads"
at Texas State or the "affirmative action bake sale" sale
protesting campus diversity standards
at UT or the posters
advertising a white supremacist group
at Rice University or the anti-interracial dating fliers spread around Southern Methodist University, just to name a few.
As for the "harassment" that left Wendt so rattled he went to the campus cops, no one has come out to claim responsibility for the returned fliers. But whoever did it didn't seem that interested in hiding their identity. "I knocked but you weren't here," a post-it note stuck to the stack read, possibly sign the sender was hoping for an in-person conversation.
"These leftist intimidation tactics will not phase us," Wendt
told conservative blog Campus Reform
. "Once again liberals show how tolerant they are for ideas that are not their own."
D'Souza's ideas, reflected in his 2016 documentary
blaming slavery on Hillary Clinton
and his arrest for
making illegal campaign contributions
, will still be shared at his March campus event. Wendt said he hopes this liberal "hissy fit" will only draw a bigger audience.
Shortly after Wendt shared the returned fliers to Facebook, Trinity's Dean of Students David Tuttle
wrote a blog post
applauding Tigers for Liberty for giving an alternative to the "echo chambers of one-dimensional thought" on college campuses. He ended on a somewhat confusing note.
"It isn't easy speaking up sometimes. But that's what college discourse is all about," he wrote. "It isn't about free-speech zones (should be the whole campus), time-place-and-manner policies, hate-speech codes, and safe spaces. The last thing we need is to keep driving hate into the shadows."
Does that mean Trinity students should now expect campus hate to be displayed where everyone can see it?