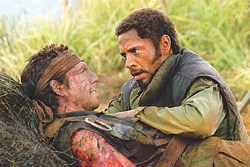 Tropic Thunder
Director:
Ben Stiller
Screenwriter:
Ben Stiller
Cast:
Ben Stiller, Robert Downey Jr., Jack Black
Release Date:
2008-08-13
Rated:
R
Genre:
Comedy
Lowbrow comedy (which I shamelessly support, generally) is often peculiarly particular in its appeal. It's not always clear what causes some folks to swear by or pass on such fare as Super Troopers, Hot Rod, The Foot Fist Way, but it often seems to come down to some combination of mood and expectation. I laughed a lot, almost more than I felt I should, at Walk Hard. I didn't enjoy Zoolander until a second, years-later viewing; now it makes me giggle. I howled at Step Brothers; Pineapple Express was ultimately a bit too silly for me.
Headed into Thunder, I was primed, if cautious. I mean, talk about expectation: Since first glimpsing the trailer months back, Stiller -and-company's Apocalypse Now-meets-The Three Amigos (I'm wagering you'll hear that comparison a few times before it's all over) comic opus had been jockeying near the top of my mental "must" list for summer. (Yes, my brain operates like an issue of Entertainment Weekly. Eat me.) I was anticipating a razor-sharp parody/satire wrapped neatly in a Rambo gift box. I wanted the only times I wasn't bellowing with laughter to be those when I was clenching my bowels so's to not soil myself at onscreen explosions so big and glorious they furnished me with an extra Y chromosome.
I don't think it was fair.
What I got, and what I should have expected, was a rather well-produced and spectacle-driven broad action-comedy that should satisfy anyone not expecting a wealth of subtle or subversive humor. Duh, right? For some reason, I had something like a far-less-politicized version of this year's deliriously screwy (and mind-bogglingly underappreciated) War, Inc. in mind. There is some pointed (and very funny) satire in Thunder — the film opens with a giddily memorable block of faux trailers that introduces us to three of our main characters; Jackson's rapper-actor goes by the handle "Alpa Chino" — but the lion's share of the comedy aims a hair lower. And, faith, a fair amount of it hits. There were probably three-to-five moments in the film that made me laugh extraordinarily, sometimes systems-cleansingly hard, a handful that made me laugh reasonably hard, and then a good bit of smiles and chuckles thrown in for good measure.
Perhaps, in few years, it'll fit nicely on the shelf alongside Zoolander.