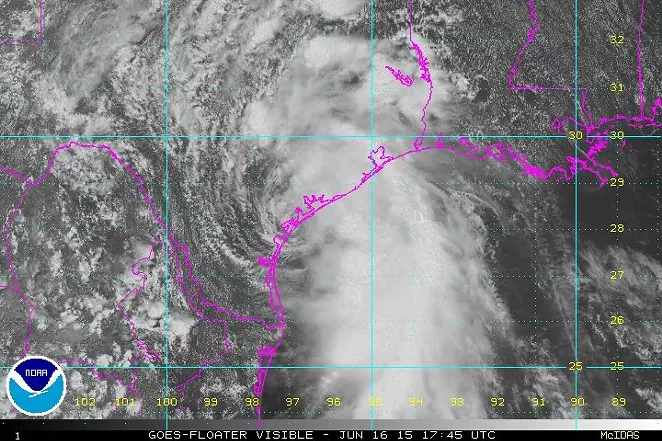 National Hurricane Center
Tropical Storm Bill made landfall just before noon, and it's bringing more rain to Central Texas.
Tropical Storm Bill is bringing more rain to Central Texas, including areas ravaged by May floods.
In its latest weather advisory, the National Weather Service Austin/San Antonio office is warning residents of a flash flood watch that's in effect until 1 p.m. Thursday.
If you look out the nearest window, it's probably already raining.
The NWS is estimating three to six inches of rain east of Highway 281 in San Antonio, but the farther east you go, that estimation rises with more than eight inches possible closer to Highway 77, which is a couple of hours to the east.
Counties to the north and northeast of San Antonio, including Austin, are under a tornado watch until midnight.
If the storm tracks farther west, rainfall in San Antonio could increase.
According to
Weather.com
, Tropical Storm Bill made landfall just before noon on Matagorda Island.
The San Antonio Fire Department says despite the fact that the storm is expected to stay west of San Antonio, there will be an average of four inches of rain with the heaviest downpour occurring between 7 p.m. tonight and 7 a.m. Wednesday.
"Due to the large amount of rain we have received over the last month, it will not take a lot of rain to lead to flooding," the SAFD says in a press release.
So remember if you come across high water, turn around and don't drown.