There's no denying San Antonio has a large number of youth and teens hanging over the precipice — in danger of falling into lives as under-educated, chronically unemployed adults; alcohol or drug addicts; criminals, or worse. Nestled in a copse of pecan trees off Mission Road, the
Por Vida Academy Charter High School
throws a life-line to some of the most vulnerable kids in our community.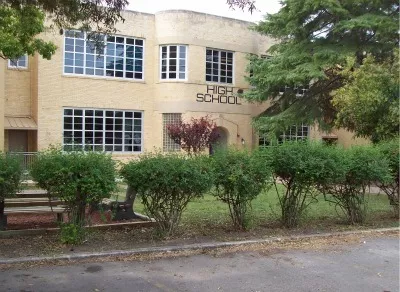 Por Vida--which means 'for life'-- is located on the campus of Blessed Sacrament Academy at 1135 Mission Road and has been around since 1995. Por Vida Academy is a last-stop school for those who have dropped out or been pushed out of every other available program; a place for those whose next residence might be juvenile detention or jail. Many students at Pro Vida have behavioral problems. Most come from low-income, often single-parent homes.  Some are homeless or abused. There are even students who come with probation or parole officers. During my visit, I got the feeling this seemingly quiet school cuts through lives in turmoil to give these kids their best last chance to achieve a successful life.
"The teachers and administrators at Por Vida need ears like Dumbo the Elephant," Principal George Peña says. "Most of the students here need someone who cares enough to listen. These kids come to our school as a last resort. Those who are willing to walk the whole journey to earn their high school diploma, regain their self-respect and move on to better jobs, go to college, or join the military."
Also located on the Blessed Sacrament Academy campus, the Child Development Center, Parents' Academy, and Jewish Family Counseling Service, provide childcare and other services for the Por Vida students.
Last fall, I visited Por Vida for a video interview with Mr. Peña and some of the students. OK, I'm a sap, but these kids brought tears to my eyes with their stories.
Albert Beltran, a graduate of Por Vida, now a successful restaurant manager, wrote in a recent letter to the school, "I cherish the time I spent at Por Vida, and have a fond memory of being a former student. I learned that through hard work you can take yourself anywhere."
With elected leaders on both state and national levels considering deep cuts to educational programming, funding for mentoring programs and other social services, we will no doubt see more youth and teens dropping through the cracks, sliding down the slippery slope to troubled lives. This hurts our children and our community as a whole. Schools like Por Vida are already full. Where can these kids go for help? What will happen to them now?
For more from Laura Carter, follow @LauraCarter or visit A Small Blog