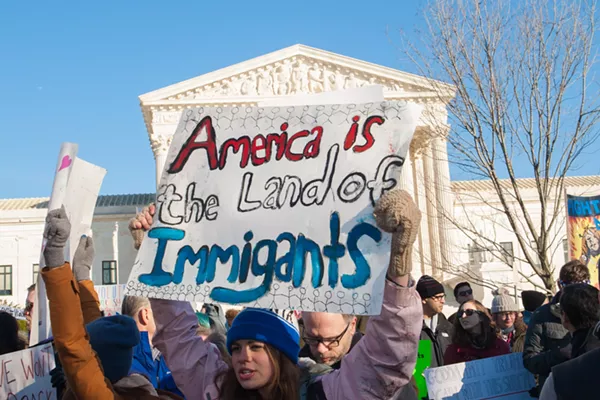 Nearly 200,000 people from El Salvador who have legally been allowed to reside and work in the United States for close to two decades will be required to leave by 2019, following a decision by the Trump Administration.
Secretary of Homeland Security Kierstjen Nielsen
announced on Monday
that El Salvador would no longer be one of the countries granted Temporary Protected Status (TPS), which allows the residents of countries dealing with certain conditions, like ongoing armed conflict or environmental disasters, to legally live and work in the U.S.
TPS for Salvadorans will continue for 18 months, before the country is officially crossed off the list of countries with TPS in September 9, 2019.
Approximately 36,300 TPS beneficiaries from El Salvador live in Texas, according to the Center for Migration Studies.
Currently, nine countries have TPS: El Salvador, Haiti, Honduras, Nepal, Nicaragua, Somalia, Sudan, South Sudan, Syria and Yemen. TPS offers temporary reprieve for foreign nationals from those countries, meaning they cannot be removed from the U.S. or detained because of their immigration status, and are allowed to live, work and travel during their time in the U.S. The program does not offer a path to citizenship, nor does it grant any kind of immigration status.
El Salvador was granted TPS in 2001, following a series of earthquakes that left more than 1,000 people dead, and which the Salvadoran government estimates directly impacted almost 25 percent of the total population. In a statement, Nielsen cited a "review of the disaster-related conditions upon which the country's original designation was based," referring to the 2001 earthquake, explaining the decision to end protective status for El Salvador.
El Salvador has the highest number of TPS beneficiaries, with an estimated 195,000, Salvadorans living in the U.S., plus approximately 192,700 U.S.-born children as of 2017, according to the
Center for Migration Studies
.
Back in August 2017, the Salvadoran government had
asked the Trump administration to consider extending TPS
, saying that although the conditions caused by the earthquakes had improved, they'd suffered other catastrophes, like an uptick in drug and gang-related violence, that could complicate the return of the hundreds of thousands of El Salvadorans currently living in the U.S.
"Previous administrations determined that forcing the return of Salvadorans to their country would be a threat to their personal safety," San Antonio Congressman Joaquin Castro said in a statement following the decision. "The Trump Administration's failure to extend the TPS designation for these individuals paves the way for the deportation of hundreds of thousands of people and endangers their lives."
In 2016, remittances sent to El Salvador from family members living and working in the United States reached an all-time high with an estimated $4.5 million dollars, making up approximately 17 percent of El Salvador's GDP that year.
Previously, the Trump Administration announced they'd end TPS for Sudan by November 2018, Nicaragua by January 2019 and Haiti by July 2019.
Back in August, the Trump administration also ended the
Central American Minors program
, which offered U.S. entry to approximately 1,400 minors since 2014 who were fleeing violence in El Salvador, Guatemala and Honduras, as long as they had a parent already legally residing in the U.S. waiting for them.
In her statement, Nielsen deferred to Congress for a potential solution for TPS beneficiaries, saying only they had the ability to come up with a permanent fix to grant lawful status, and that the 18-month delay would give them the time to do so.