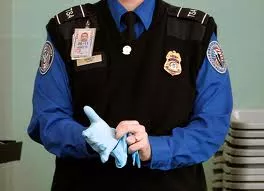 Many flights were delayed and JFK Airport was at a standstill after an unidentified man stripped himself nude and proceeded to re-enter the line at Airport Security.
Ralph Hardy, a three year veteran of the TSA, was bewildered when the nude man kept pointing towards his crotch, gently nodding his head in approval. "It was crazy! The guy kept going through the check point over and over. At first I didn't notice, but then I started to realize the guy was enjoying it."
Witnesses gave police testimony stating that the man had been frisked like all the others, but kept finding ways to keep having to go through again.
"At first he would check his watch and say 'Oh, Jeez! I totally forgot' then retrace his steps," said traveler Judith Little. "Then he just started answering his phone and pretended to have conversations that required him to leave again. Every time he came back he was less and less dressed, but to be honest, the way things are going, it didn't seem that out of place."
It was noted by more than a few travelers that the agent at this particular station was more aggressively "hands on" than others.
"I love my job," explains Agent Hardy. "I'm actually not surprised by this guy's desire to keep coming. I bring a certain amount of enthusiasm to the TSA pat-down protocols. I want people to know that when they go through my line they are in good hands."
But things became very tense after Agent Hardy refused to pat the naked man like he had before, insisting that there was no visible weapon and that he should clothe himself. The man replied he was indeed carrying the greatest weapon of all — Love — and that if it wasn't released he would soon explode.
"This was a dangerous situation," says Hardy. "The Transportation Security Administration teaches us to focus on keywords that imply if a suspect may have an explosive device attached on their person."
Agent Hardy pulled his weapon on the man and tried to take control of the situation, but the Nude Stranger immediately darted away yelling, "Tease!" Two other agents tried tackling the alleged bomber, but could not get a grip. "He seemed covered in a clear jelly like substance," continued Agent Hardy. "I don't know where exactly he hid his device, but it's obvious he needed lubrication to complete the task. "
While airport security is at an all-time high, representatives of the TSA believe that it's situations like these that call for even higher regulations and broader definitions of what agents can and can't do. One initiative proposed to the House Committee on Aviation asks that agents be allowed to frisk and occasionally give "hand jobs" to potential security threats
A press release by the administration states: "People seem to become very angry with the current policy. By giving out the occasional 'Handy' we can deter commuter agitation and quite possibly double the number of people flying across the entire country. This could actually be the answer for an industry long haunted by bankruptcy fears, massive layoffs, and government bail outs."
"I would love that," said Agent Hardy. "What Terrorist in the world could be angry enough to commit violence after he comes through these hands?"
Meanwhile agents of Homeland Security and New York police are confident they will identify and capture the Nude Man very soon. "We have his pants
now it's just a matter of playing the waiting game," one officer said.