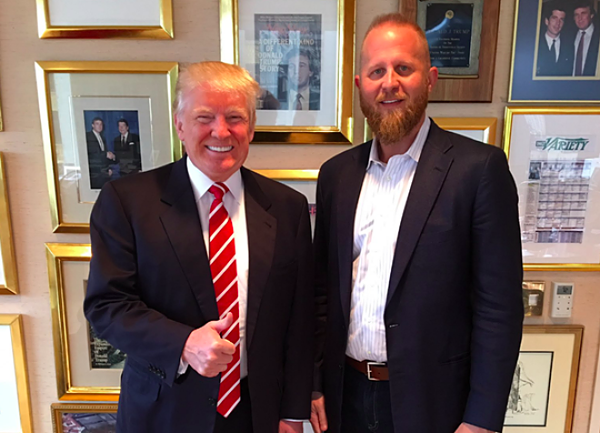 Facebook
Brad Parscale (right) stepped in it on Twitter this week.
Twitter just handed Trump 2020 campaign manager Brad Parscale a steaming shovelful of shit over his tweetstorm against Mayor Ron Nirenberg.
Parscale — who appears to have a running bet with convicted felon Sen. Carlos Uresti over
who can become the bigger embarrassment
to the city — unleashed a two-day Twitter barrage taunting Nirenberg for not aggressively pursuing the 2020 Republican Convention.
Naturally, there were plenty of tweets defending Parscale (replete with the requisite #MAGAs and predictable attacks on City Manager's Sheryl Sculley's paycheck).
But, for our money, the most entertaining responses pointed out just how closely Brad the Beard's online rants resemble those of his orange-hued boss. (Reportedly, he was one of the few people Trump let tweet on his behalf during the campaign, so there you go.) Some also brought up the ongoing investigation of the Trump campaign's ties to Russia, which Brad, of course,
has vehemently denied
.
And before anyone gets too worked up over the cheap shots in the samples that follow, consider the maturity level of the original tweets, which bear more resemblance to junior high mine's-longer-than-yours taunts than serious political discourse.
And Trump is actually paying you?

— Sean McCabe (@darthstar99) April 26, 2018
Brad well below Parscale

The Good the Brad &The Ugly

Colonel Sanders Parscale

Found my finger at the end of my whatever Parscale

— Richard Goldman (@RichardGoldman6) April 26, 2018
Stay on top of San Antonio news and views. Sign up for our Weekly Headlines Newsletter.