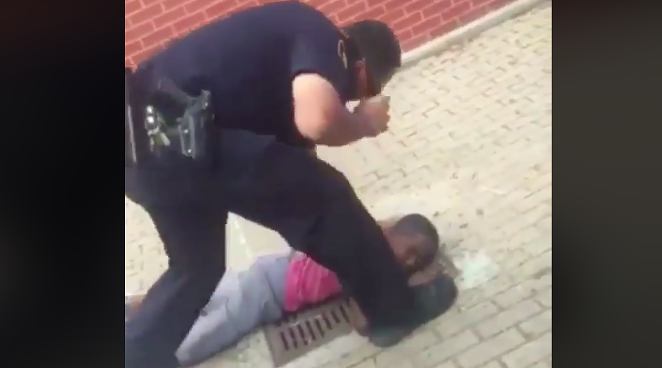 It's been a hard week to be a preteen on the Northside.
Two students at Northside Independent School District middle schools, ages 12 and 13, have been physically assaulted this week by adults in two unrelated incidents.
The first took place Monday at Ed Rawlinson Middle School in Shavano Heights, when a NISD officer broke up a fight between two middle school boys — who were both throwing punches. In
a video shot by another student
, the armed officer (NISD did not share the officer's name with the
Curren
t) pulls 12-year-old Charles "CJ" Jackson and the other child apart, grabs Jackson by the back of his shirt and drops him facedown on the playground. In the background, the other student watches, unharmed.
Before the video spread on social media, Jackson's mother allegedly got a call from Rawlinson Vice Principal Ryan Richter, informing her that her son had been suspended for fighting with another student. According to Robert Session, Jackson's adult cousin who shared the video of Facebook, the middle schooler said that wasn't the case. The other kid had spit on him, Jackson said, and then a cop got involved.
"[His parents] didn't believe him, at first," Session told the
Current
. "And then they saw the video."
Jackson's mother allegedly went straight to Richter's office to get the story straight. She declined to talk with the
Current
, but Session passed along this message: "She wants me to tell you she is very upset with the officer for what he did to her son [and] the school for lying to her and not suspending the other boy."
"No kid should be slammed like that," Session said.
NISD spokesman Barry Perez said the officer, who's been on the NISD force since 2006, has been put on administrative leave until the department can fully investigate the incident. NISD also reported the assault to Child Protective Services.
"That video speaks volumes," Perez said. "I would remind individuals that we are not in any way condoning his actions. They are extremely atypical of our Northside officers."
Last year, a San Antonio ISD officer was
fired for body-slamming a middle school girl
to the ground. The assault may have not been reported if it hadn't been caught on tape.
The second assault took place at Jordan Middle School Wednesday morning, when a man entered a girl's bathroom and pushed a 13-year-old girl, slamming her head into a stall door, according to Perez. He said the suspect was on campus with a woman to speak with administrators about his own children.
He left campus shortly after. The woman, who stayed behind, proceeded to give NISD officers fake information about the man's identity, Perez said. The suspect has yet to be tracked down but will face charges.
"It's absolutely reprehensible," Perez said.