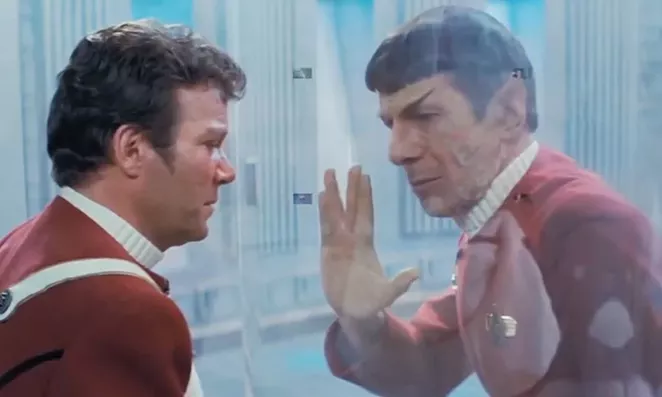 Courtesy
Leonard Nimoy as Spock in Star Trek II: The Wrath of Khan, which screens this Thursday at the Alamo Drafthouse Park North.
Leonard Nimoy was laid to rest on Sunday, following a private, intimate Jewish ceremony attended by family and friends in Los Angeles. The world will continue to memorialize Nimoy in the days and weeks ahead, and local
Star Trek
fans in San Antonio will have three opportunities to remember the prolific entertainer best known for his portrayal of Spock in the
Star Trek
franchise.
On Thursday, the Alamo Drafthouse Park North will team up with SA's Jason Davis and Ken Farley of
The Nerd 411
podcast for a free Leonard Nimoy memorial screening of
Star Trek II: The Wrath of Khan
. The second major motion picture outing for the franchise is perhaps the most critically-acclaimed
Star Trek
film. The film fittingly features the death of Nimoy's half-human, half-Vulcan character, in what many consider to be one of the most poignant and memorable death scenes in all of science fiction.
Reservations for Thursday's 7:30 p.m., showing filled up less than an hour after the screening was announced. But the Alamo Drafthouse has since added a second screening on Thursday, March 5 at 10:30 p.m. in response to the huge demand.
You can RSVP to the recently added second showing Leonard Nimoy memorial screening on Eventbrite.
Expect reservations for the second show to fill-up quickly, and note that an RSVP does not guarantee admission, and seating is on a first-come, first-served basis, so you'll want to arrive early.
On Saturday, March 14, members of
U.S.S. Bexar
, the San Antonio chapter of the international
Star Trek
fan club
STARFLEET
, will gather at Gamelot (7088 Bandera Rd., 758-5589) at 1:30 p.m., for a celebration of Nimoy's life, work and cultural influence. Photographs and other
Trek
memorabilia will be displayed, and local Trekkies will share stories of their real life encounters with the pop cultural icon.
Commodore Robert Ybarra, commanding officer of U.S.S. Bexar, shared his stories via email with the
Current
of his many encounters with Nimoy on the Star Trek convention circuit.
"Our first encounter was a convention in Florida," Ybarra said. "He was extremely motivational, hospitable, and very friendly. His strong spoken demeanor, his unmistakable voice resonated as he spoke."
During that convention, Nimoy shared with the audience the origins of his iconic Vulcan salute, the split-fingered gesture that often accompanied Spocks signature phrase, "Live long, and prosper." Eight-year-old Nimoy first noticed a Jewish rabbi doing the hand gesture during synagogue services. According to Ybarra, Nimoy clarified that the v-shape mimics Shin (ש), a letter in the Hebrew alphabet. The letter is used to spell "Shaddai" in Hebrew, a common name for God Almighty in Judaism. Nimoy noted this to
Star Trek
creator Gene Roddenberry, and the Vulcan salute was born.
Here is a
New York Times
video of Nimoy retelling the origins of his characters iconic gesture.