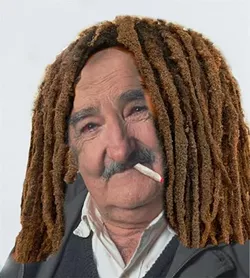 Uruguay's José "Pepe" Mujica, the world's "poorest" (and coolest) president.
"We ask the world to help us create this experience. It will allow us to adopt a socio-political experiment to address the serious problem of drug trafficking
the effect of the drug traffic is worse than the drug." (José Mujica, President of Uruguay)
Unless you live in a jar, you probably heard the news: Uruguay, the birthplace I left in 1984, became the world's first country to fully legalize marijuana, with a tentative price of $1 a gram. On December 10 the Uruguayan Senate approved the measure on a 16-13 vote (don't laugh—we only have a population of 3.3 million) after 13 hours of debate, to the delight of hundreds of supporters who filled the upper galleries of Montevideo's Legislative Palace and marchers surrounding the building outside.
It would be easy for me to brag about how progressive my country is, but let's face it: in spite of historical social achievements (in the last year alone, Uruguay legalized abortion, gay marriage and marijuana, and the country has been a pioneer on workers' and women's rights), three months ago 63 percent of the population opposed the legalization, with that figure now at 58 percent.
For those wishing legalization in their own country, Uruguay has become a sort of progressive paradise; we have the coolest country with the coolest president. BuzzFeed even posted a funny blog named "21 Reasons to Move to Uruguay in 2014." But before you start packing your bags, let me tell you: Uruguay is a little more complicated than that. In this blog, I'll try to break it down for you.
First, go to the next page to see what this law is all about.
(Photo by Matilde Campodónico/AP)
El País, Uruguay's leading daily newspaper, reduced the new cannabis law to 10 basic points, which I translated, shortened and rephrased for clarity's sake:
# 1 WHO WILL CONTROL THE MARKET?
The State will control the market, from regulation to production and distribution.
#2 WHO WILL ENFORCE THE LAW?
The newly formed Institute for the Regulation and Control of Cannabis (IRCCA), in conjunction with the Ministry of Livestock, the Ministry of Public Health and the National Drug Board, will control and enforce the law. It will be in charge of providing licenses and take them away in case of violations.
# 3 WHO CAN GROW MARIJUANA PLANTS AND WITH WHAT PURPOSE?
For scientific and therapeutical purposes, the Ministry of Public Health.
For personal consumption, anyone over 18 years old can have up to six plants for a maximum of 480 grams a year.
Membership clubs of 15-45 members will require government authorization.
# 4 WHAT HAPPENS IF YOU DON'T REGISTER?
To grow, store, distribute or sell without government permission will be punishable with 20 months to 10 years in jail.
# 5 WHO CAN SELL?
Pharmacies. You can buy up to 40 grams a month as long as you are over 18 years of age.
# 6 CAN YOU BUY POT FOR MEDICAL PURPOSES?
Yes, but you need a doctor's prescription.
# 7 CAN YOU SMOKE IN INDOOR PUBLIC PLACES OR DRIVE UNDER THE INFLUENCE?
No. Tobacco laws apply and you can't drive with more than one percent THC in your system.
# 8 CAN YOU ADVERTISE POT?
No. Plus: It is mandatory to include a new class in the education curriculum (from elementary to technical university): "Prevention of the Problematic Use of Drugs." (Which reminds me of what David Lee Roth once said: "I used to have a drug problem, but now I make enough money." But that's for another blog.)
# 9 WILL ADDICTS BE TREATED?
Yes. In cities with a population of more than 10,000, addiction centers will be established.
# 10 WHEN CAN WE START LIGHTING UP?
The government has about 120 days to promulgate the law, so it will be around April of 2014.
Go to the next page to see how some world press covered Uruguay's plan.
Even Jon Stewart had something to say
Go to the next page to see Uruguay's first marijuana-related hidden camera prank.
Go to the next page to see the arguments used by those who opposed legalization.
The traditional Colorado (center-left) and Blanco (center-right) parties, which for the first time in history lost power to the governing leftist coalition Frente Amplio in 2005, basically repeat the usual arguments we've been hearing for decades: that marihuana is a gateway for harder drugs, that legalization won't stop the black market, and that the drug is worse than what supporters wants us to believe.
In other words, this:
But the opposition does have one reasonable argument against legalization: how could the government control the cannabis market when it can't even control public health and education and soccer-related violence? Uruguay still has one of the world's highest literacy rates (98 percent), but the quality of public education—once one of the country's greatest prides—is so bad compared to where it was that both the left and the right agree something must be done urgently.
Go to the next page to see the United Nations' reaction to marijuana legalization and Uruguay's reply.
Raymond Yans, president of the UN's International Narcotics Control Board, accused Uruguay of acting like "pirates" for not respecting international drug conventions and of not agreeing to meet with him.
"Tell that old man to stop lying," Uruguay's president José Mujica told Montevideo's Channel 4. "Anybody can meet with me
Because he's on an international position does he think he can say whatever nonsense?
Tell him to come [to Uruguay], but he will have to clarify to me why so many [U.S.] states, whose capitals alone are larger than Uruguay's population [have legalized marijuana]. Or does he have two speeches, one for Uruguay and one for those who are strong?"
Uruguay is a beautiful country with a reputation as the friendliest people in Latin America. But no, it's not a paradise. Go to the next page to take a silly, absurd look at real life in the country.
Tiranos Temblad (literally, "Fear, tyrants," taken from a line in Uruguay's National Anthem), is a five-minute weekly compilation of Uruguay-related clips taken from You Tube. It comes out every Monday and is put together by a guy named Agustín Ferrando Trenchi. It has a huge cult following (more than 23,000 likes on Facebook) and Ferrando wants to keep it on You Tube, despite interest by major local TV networks.
The last thing I want to share is the main reason why this is happening in Uruguay. Lots of politicians and activists started the process, but Uruguay was able to legalize it because of one man. Go to the next page and see who he is.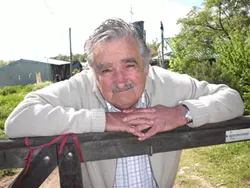 Yes, you guessed right: President José "Pepe" Mujica. The former guerrilla leader, imprisoned and tortured for 14 years, received amnesty in 1985 and became the country's most popular political leader. Today is known as "the world's poorest president," but he will take none of that.
"I'm not the poorest president," he told The Guardian. "The poorest is the one who needs a lot to live. My lifestyle is a consequence of my wounds. I'm the son of my history. There have been years when I would have been happy just to have a mattress."
In 2012, his speech in Brazil in front of the United Nations Conference on Sustainable Development (Rio+20) went viral: in it, he basically told everyone they're full of crap for insisting on economic development and environmental protection, but forgetting that there is no bigger environmental need than people's happiness. "Are we governing globalization, or is globalization governing us?" he asked, stressing the fact that "progress" is making people more miserable, not happier. You can see the whole speech at the end of this blog.
There's a lot of people behind legalization in Uruguay. But if you want to thank one person, thank Pepe. And tell him I hope marijuana decriminalization in Uruguay works much better than public education.
Do you think the U.S.A. will ever fully legalize marijuana? What about Texas? One thing are the efforts to turn Texas back to blue, but will Texas ever be a green state? Leave your comments below.