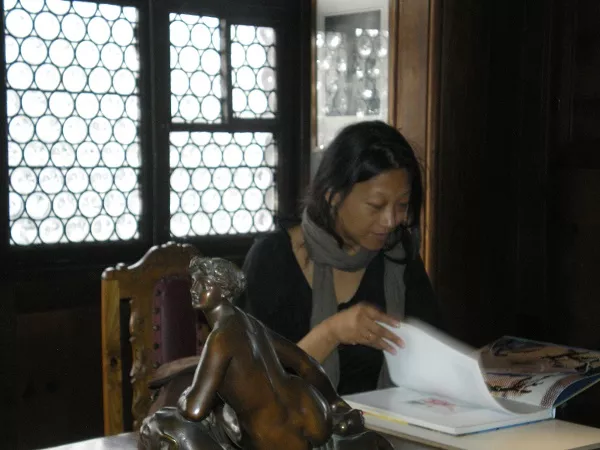 Courtesy
Jinli He in her element
While working on the delightfully tall task of trying to fit the nuances of San Antonio Museum of Art's brilliant and massive
28 Chinese
exhibit into a few pages of print, I had the chance to interview quite a few individuals with important perspectives. But, none were quite as insightful, or valuable in the sense of the larger dialogue that this extraordinary show suggests, as my email exchange with Trinity University Associate Professor of Chinese Language and Literature Jinli He. A Chinese immigrant, educated in Chinese universities with an immense background in the arts and culture, Jinli has been teaching at Trinity University since 2007. In our discussion, featured below in full, we talked about the importance of the
28 Chinese
exhibit, the extent to which the exhibit is representative of contemporary Chinese art and culture, and some of the philosophical/social currents that are key to understanding these works in context. Jinli drops some serious knowledge here and provides us with important entry points to understanding the exhibit and checking our own preconcieved notions.
Courtesy
Huang Yongping's "Well"
Speaking in terms of contemporary Chinese culture, what do you think are the most important themes/statements in the works of 28 Chinese (as a whole or specific to particular pieces)? With that, can you help me place some of the more overtly political pieces within the current Chinese political context?
28 Chinese
reflects some features of contemporary Chinese art and culture. I think the main theme could be described as locality and globalization (for example, the works by Xu Zhen and Madein Company can be viewed as a "company type" of art production which is inspired by commercialism and globalization). He Xiangyu's
Cola Project
is not only a reflection on global commercialism, but also his unique use of Chinese thinking and art style (especially the antique series). The transforming process of the
Cola Project
is rather fascinating (from something harmful/useless [the extractions] to something useful and beautiful [landscape painting]). Huang Yongping's
Well
can be read as using Western and Chinese mythologies, but has a deconstructive power (viewing this work cannot arouse pleasant or aesthetic feelings in the viewers—reading mythological stories might). Not many pieces that are so overtly political in this exhibition, except He Xiangyu's
The Death of Marat
(inspired by the Ai Weiwei tax evasion case, Ai Weiwei wears the suit worn by People's Representatives during People's Congress meetings, and lies on the ground facing down—the fate of an idol, a martyr). Wang Xingwei's
Comrade Xiao He
has a political theme (about a young female solider of the Communist Party before the year of 1949's romantic illusion about revolution, but the way he portrays it has an ironic and playful tone—it makes the piece more about his reflection on certain history than criticism of it). Some other works, such as Li Zhanyang's
Rent-Rent Collection Yard-History Observed-Joseph Beuys & Mao Zedong
, borrow political themes or political history, but to do conceptual art.
Courtesy
He Xiangyu's "The Death of Marat"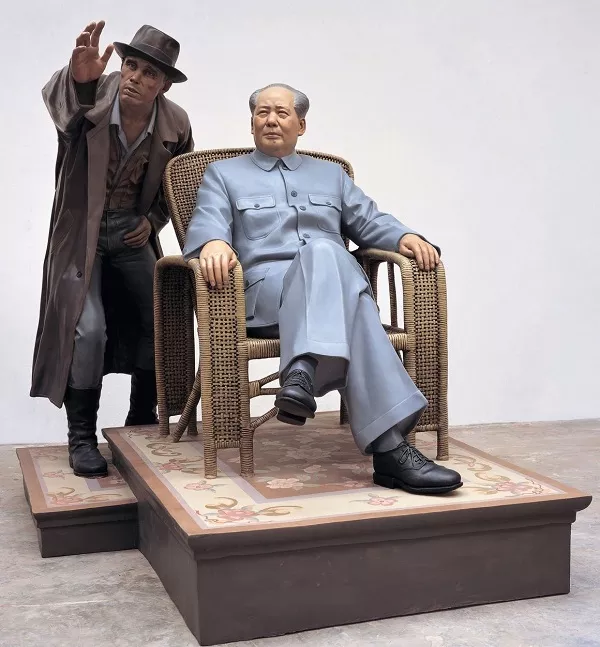 Courtesy
Li Zhanyang's "Rent-Rent Collection Yard-History Observed-Joseph Beuys & Mao Zedong"
I think that for many in South Texas, this exhibit is an introduction to contemporary art in China. As such, do you think the scope of the exhibit accurately depicts the artistic milieu of contemporary China?
Contemporary Chinese art is generally recognized as starting from 1976—post-cultural revolution. This fact suggests a political and social perspective to interpret it. The mid-1980s was really the most creative period. Art historians call this Avant-Garde movement "85' art new waves." Several artists in this exhibition achieved their reputations from this period. For example, Huang Yongping was famous for his conceptual art and as the leader of the Xiamen Dada Group. He is one of the most famous Chinese conceptual artists. His earlier works were influenced by Dada and Zen Buddhism. Well is one of his recent works, I think he still continues his deconstructive spirit. Ai Weiwei belonged to one of the earliest Avant-Garde art groups, Star Group. Star Group is the first Chinese art group that was exhibited abroad—
Star Ten Years Back
in 1989 in Hong Kong (before Hong Kong's return). Zhuang Huan was one of the Avant-Garde artists who chose to live as a vagrant artist. They used to live in Beijing East Village and other poor suburb areas around Beijing in the 1990s. Zhuang Huan was one of the early Beijing East Village artists. The photos you see at this exhibition were the works made during his East Village time. In the 1990s, Zhang Huan moved to New York and several years ago he moved back to Shanghai.
For a long time, the international art market really favored some strongly political pieces, especially the so called "Political Pop" and "Cynical Realism." One methodology of Political Pop is to use the original method of social realism to reconstruct the history of the revolution of socialism. The use of the revolutionary tradition, and old rhetorical language to retell this tradition and language, will be an irony for the tradition itself. Wang Xingwei's
Comrade Xiao He
and Li Songsong's
Comrade your temperature is back to normal
could be viewed as following this tradition. Since 1990s, Chinese contemporary art, with help from western institutions, art dealers, curators and collectors, has continued to exhibit in Europe and the U.S. They are titled experimental art (or Avant-Garde art) by critics to show the art world's representative voice in China. After 2000, more exhibitions have been held inside of China. The earlier exhibitions abroad seemed to emphasize its political goal—rebelling or uncooperative voice against the government—but the collectors and viewers often forgot there have been diverse voices in the contemporary Chinese art world.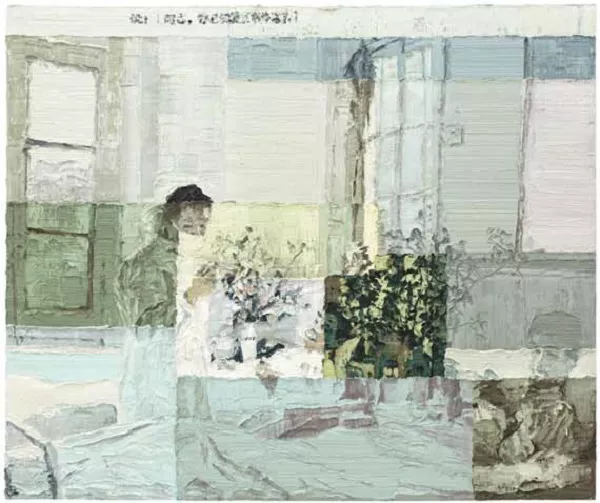 Courtesy
Li Songsong's "Comrade your temperature is back to normal"
One thing I really like about this exhibition is that it didn't intend to find ONE voice, it only intended to collect and show good and interesting works made by contemporary Chinese artists. This exhibition includes some very creative young artists' works, and their works are their deep thinking and unique expression of their Chinese cultural experience and the global context. To me, this makes this exhibition a great one. Furthermore, the old generations such as Ai Weiwei, Huang Yongping, Qiu Zhijie, and Zhu Jinshan also created some excellent new works. This exhibition shows the very creative and healthy environment of contemporary Chinese art.