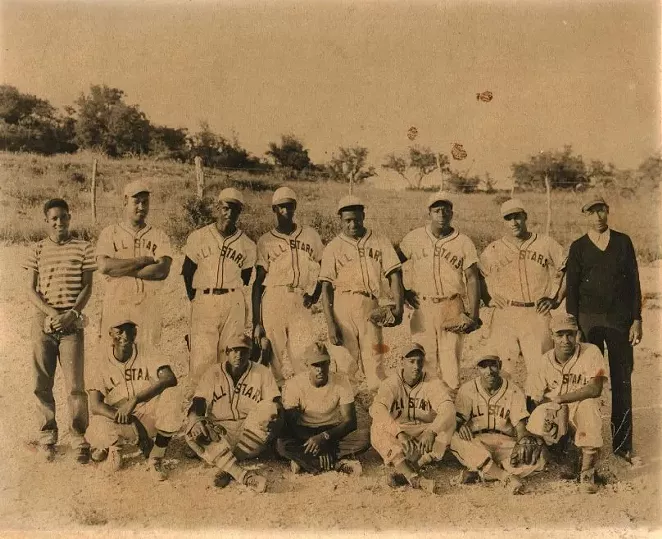 Kerrville All Stars, circa 1949, courtesy of Clifton Fifer
Two of society's great equalizers through history have been the military and competitive sports. It may have taken some time – the army and pro sports weren't always integrated – but they were proving grounds for social experiments.
On Sunday, March 13, the UTSA Institute of Texan Cultures will host "Buffalo Soldier Day, featuring 'Invisible Diamonds,'" free Second Sunday programs, examining African-Americans in military service and in organized baseball.
In the ranks and on the ballfield, skin color didn't matter. It was trust, honor and loyalty from your teammates. African-American communities took notice of these soldiers and athletes. They saw people who looked and spoke like them in the saddle and on the pitcher's mound. The military and sports created role models for success and sent a message that African-Americans had a place in mainstream society.
After the Civil War, the United States government established a standing army, which included two regiments of African-American infantry and two regiments of African-American cavalry. Military service presented black men a chance for social and economic progression, with their food, clothing, shelter, education, skills and salary assured. They were receiving tools that would help them succeed long after their enlistments were complete.
A great deal of Texas history is attributable to the "Buffalo Soldiers," as Native
Americans called them due to their hair resembling the buffalo's. During the Frontier era of the 1870s, the Buffalo Soldiers helped scout and map the state. They escorted surveyors, located water sources, escorted wagon trains and helped build telegraph lines. Their expeditions and surveys often led to the establishments of forts, which would in turn become the foundation of communities and modern cities.
While military life on the Texas frontier was never easy, the Buffalo Soldiers did have time off, and in those rare leisure hours, they discovered the early forms of baseball.
Eventually, they formed teams and competed with other units, or with teams from nearby communities.
Over time, this loose affiliation of baseball clubs took shape and, in 1920, native Texan Rube Foster established the Negro National League. The talent of players such as Willie Wells, Smokey Joe Williams, Josh Gibson and Cool Papa Bell gained notice at a national level. Thousands more played at the local level, and though they didn't accumulate great fame, their achievements were equally as important.
Courtesy of UTSA Institute of Texan Cultures
106 Buffalo Soldiers living historians raise the flag at the Institute of Texan Cultures Back 40
Local teams became the heartbeat of their communities. They provided Sundays full of entertainment with large crowds gathering at ballparks throughout Texas. Black Sox Stadium in San Antonio and Carver Park in Kerrville are examples of these. Baseball fields offered an escape from the realities and pressures of segregation these players faced Monday through Saturday on the streets of their cities and towns.
Baseball and military service built bridges between generations and race. These
traditions are part of African-American heritage and Texan heritage. For more on these experiences, visit the UTSA Institute of Texan Cultures on Free Second Sunday, March 13, noon to 5 p.m., or visit
TexanCultures.com
.