Valentine's Day is coming up fast. If you're stumped for ideas we've got a few creative and delicious treats for your special lady.
1. Chocolate Treats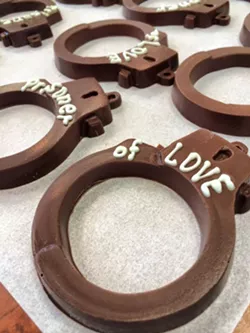 Cute and delicious (Courtesy)
Schakolad Chocolate Factory (1203 N Loop 1604 W, Ste 117, (210) 490-5333) offers unique and creative treats like their chocolate champagne glass or the prisoner of love chocolate handcuffs. Schakolad also offers more traditional delicacies like their chocolate covered Oreos. A single chocolate champagne glass costs $5 and chocolate handcuffs are $12.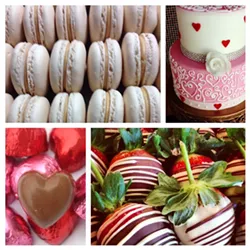 sweet little treats (Courtesy)
Delice Chocolatier (946 N Loop 1604 W, (210) 545-2200) has many treats for your loved one from heart shaped chocolates to chocolate covered strawberries and pink macarons. Delice's menu also offers sugar free chocolate assortments and cakes.
Bananas Foster (Courtesy)
Strawberry Balsamic (Courtesy)
Raspberry Bites (Courtesy)
Lavender (Courtesy
Choicolate Artisan Chocolates (700 E Sonterra, Ste 210, (210) 495-2464) makes 20 different flavors of truffles including bananas foster, strawberry balsamic, raspberry bites, lavender and unique flavors like mango habanero.
2. Bakery Delivery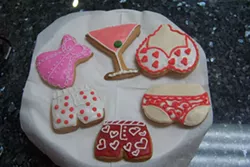 Hanky-panky treats (Courtesy)
The Cake Shop (9871 IH 10 W, 18720 Stone Oak) has several flavors of cakes and cupcakes with different fillings and frostings. The Cake Shop also does sugar-free, gluten-free, dairy-free and eggless cakes. Orders should be made a week in advance.
Contact: (210) 561- 1700 (Colonnade), (210) 490-4522 (Stone Oak)
Holy Cupcake ((210) 639-0887) delivers cupcakes right to your door. Holy Cupcake has 59 different orders to choose from and delivers all over San Antonio and surrounding areas. A Valentine's Day cupcake box is available right now for $45. The box includes four eat-your-heart-out cupcakes, four Fox E Brown cupcakes and four James Dean cupcakes with lavender rose frosting. Holy Cupcakes also offers gluten-free and vegan cupcakes.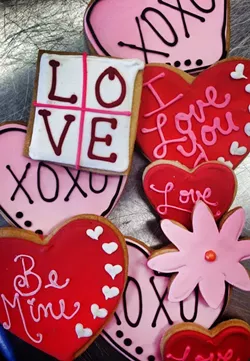 Spreading the love (Courtesy)
Cake Art (18402 US 281 N, Ste 107, (210) 277- 0308) offers a bakery menu with cookies, brownies, pies, lemon and pecan bars, cakes and cupcakes with over 15 different flavors and icings combinations. Cake Art is also offering a couple Valentine's Day specials. Orders over $45 get four free chocolate covered strawberries and free delivery for orders over $65.
Cookie Cab
If staying at home is more your style go with Cookie Cab ((210) 848-9920) Cookie Cab delivers chocolate chip, peanut butter, oatmeal raisin, snicker doodle and sugar cookies to you. For Valentine's Day, there is Valentine's M&M. Cookie Cab currently delivers to zip codes 78202, 78205, 78208, 78209, 78212, 78215, 78218 and 78234. Contact Cookie Cab for delivery outside these areas.
Crumpets (3920 Harry Wurzbach, (210) 821-5600) has a gourmet Valentine's Breakfast available for delivery with eggs benedict, fresh orange juice, coffee, fresh fruit, croissants, European pastries, with a card and flower on a basket tray for $28.50.
Good Juice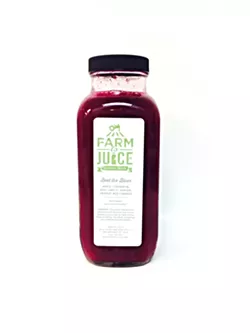 Beet the Blues (Courtesy)
Get your lady something good and nutritious to make up for all that chocolate. Farm to Juice (18730 Stone Oak, (210) 332-5853) has fresh juices "Beet the Blues" and "Butterfly Kiss." Beet the Blues has apple, cinnamon, beet, ginger, orange and red cabbage with a red color. Butterfly Kiss is filled with pear, pineapple, mint and strawberries.
French Macarons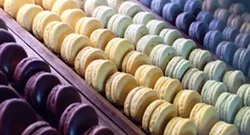 Yum! (Courtesy)
Bakery Lorraine ( 511 E Grayson, (210) 862-5582) has loads of pastries everyday, but a specialty is the French macarons. Different flavors are available in multiple quantities. Single macarons are $2, six for $10 and 12 for $18.