With the Republican primary candidate for lieutenant governor now settled after yesterday's
runoff election
, state Democrats are wasting no time at taking square aim at right-wing Tea Party favorite state Sen. Dan Patrick (R-Houston), who delivered a crushing defeat over incumbent Lt. Gov. David Dewhurst. The wide margin win coupled with
other Tea Party-backed victories
, political onlookers observed, is a sure sign the strength of the Tea Party loyalist voting bloc is alive and well. Patrick now faces San Antonio's own state Sen. Leticia Van de Putte in the race for lite guv.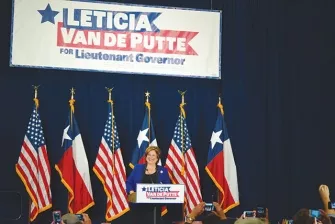 Van de Putte glided to victory in her primary and now faces runoff winner state Sen. Dan Patrick this November. Photo by Mary Tuma.
Following the runoff results, Van de Putte called on Patrick to tone down his harsh language and focused on her goal to improve the state's economy. The business-friendly relative centrist has corralled some moderate Republicans disenchanted with the extremism of their party to her side, including local restaurateur Louis Barrios, as the Current previously reported. Time will tell if Van de Putte can manage to shift enough dissatisfied moderate GOPers to her camp come November.
"Throughout this campaign and as the results came in [
] I have been receiving calls from business leaders concerned about the future of our state. Like Texas business owners, and Texans across this entire state, I know that it's time that politicians like Dan Patrick put their toxic rhetoric to rest," said Van de Putte in a statement.
"Just put Texas first. That's what my campaign for lieutenant governor is all about. It's time to put good policy before bad politics," she said.
Also in response, the Texas Democratic Party launched a campaign today to highlight Patrick's shortcomings, citing his, "extreme beliefs and dangerous record on immigration." Patrick "stands alone on the fringe of his own party" they write, and his behavior in the Senate is "an embarrassment to Texas."
"We're showing Texas voters exactly why Dan Patrick is unfit to lead. His antics are an embarrassment to Texans across the state. And even Dan Patrick's fellow Republicans have questioned his capacity to lead as lieutenant governor," said Emmanuel Garcia of the TDP in a statement.
The fight is on—stay tuned.