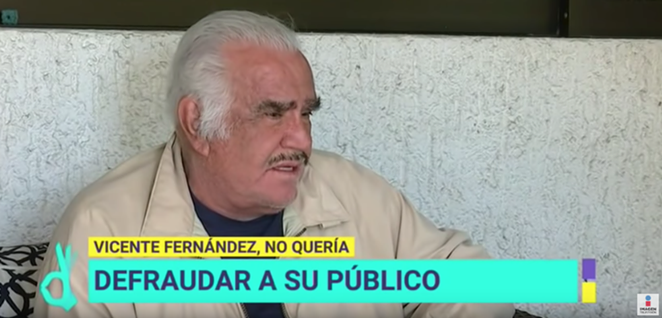 YouTube / Imagen Entretenimiento
Fernández said he didn't want the liver because he didn't know where it came from, fearing he would receive the organ from a gay person or drug addict.
In a recent interview at his home with De Primera Mano
, ranchera legend Vicente Fernández revealed he refused a medically-necessary liver transplant back in 2012 after doctors discovered a cancerous mass.
In his interview, the singer states, "They wanted to give me some other cabrón's liver, and I told them 'I'm not going to sleep next to my woman with another dude's liver.'" He later adds, "I don't even know if he was gay or a drug addict."
Fernández also recalled how he left the hospital against his doctor's wishes after refusing the transplant, and had to be begged to leave in a wheelchair. He goes on to describe how he eventually had the mass removed during a surgical procedure in Chile.
Many fans have been reacting to the news with disappointment that Fernández had refused the liver, an opportunity many patients on transplant waitlists never get, simply because he was afraid of the possibility of having a gay man's organs inside of his body. Other fans aren't really all that surprised, citing toxic masculinity and machismo culture as the power behind Fernández's reasoning.
Everyone is mad that Vicente Fernandez is homophobic as if they didn't expect an old straight machismo who sings rancheras to hate the gays.

Me: pic.twitter.com/NU5Hq5JAw9

— Jason Layton (@mrjld20) May 9, 2019
vicente fernández refused a liver transplant in fear that the organ donor was gay, i can't believe the gay is located in the liver

— jonathan ivan (@jonathanivan) May 10, 2019
In an interview with El Universal
, Dr. Mario Antonio Cardona, a transplant surgeon, described some cases in which healthy tissues and organs were able to be safely transplanted from donors who had histories of substance abuse. He voiced his concerns that the singer's "irresponsible statements" as a public figure can negatively impact potential donors in Mexico, a country already struggling to improve organ donor culture.
Stay on top of San Antonio news and views. Sign up for our Weekly Headlines Newsletter.