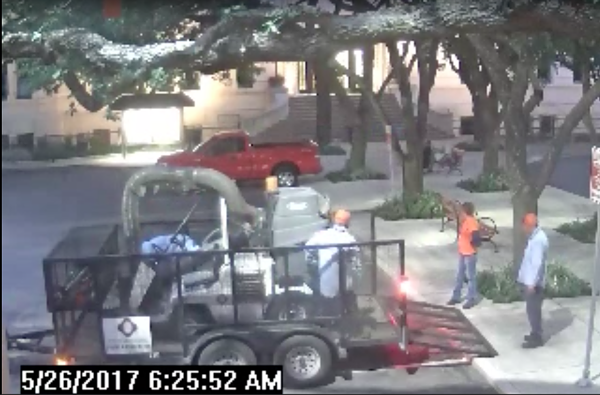 City of San Antonio via San Antonio Express-News
City landscapers watch as a security guard wakes Councilman Alan Warrick
San Antonio City Councilman Alan Warrick has no idea how he spent the hours between 2 and 6 a.m. last Friday. But, thanks to city surveillance tapes, he — and the rest of San Antonio — knows exactly what happened after he awoke on a park bench, fully clothed, outside City Hall at 6:30 a.m.
In the city security footage,
obtained by the Express-News
,
Warrick's seen stumbling toward a park bench by City Hall's back steps around 6:04 a.m. He kicks up his feet and lies motionless until 6:25, when a security guard is seen nudging the councilman awake and eventually helping him get into the city building. But wait — who's that lanky figure strolling back into the left side of the frame four minutes later? It's Warrick, inexplicably back outside, on a beeline back to his bench. He sits, and immediately slumps to the right, kicking his feet back over the arm rail. A minute later, he rises, and slowly walks away from the building, out of sight. The video clip ends with a police car pulling up and an officer hopping out, clearly scanning the scene for the missing councilman.
This slapstick-esque clip is only the recent sliver of evidence piecing together Warrick's blurry Thursday night and Friday morning.
When Warrick was originally asked Friday afternoon why he woke up on park bench Friday, he said that someone had "slipped some type of drug into one of my drinks" at a bar earlier that night. He even suggested,
in an interview with the Express-News
, that it could be political foul play, since the District 2 councilman is up for reelection June 10. But after another set of surveillance tapes — from On the Rocks, the basement bar where Warrick was drinking — found no evidence of foul play (and bar staff said that he was so intoxicated Thursday they had to cut him off), Warrick backpedaled.
Warrick, who has DWI record, issued a public apology "for all the confusion," admitting that "it seems like I just had too much to drink."
But he still hasn't explained why his first impulse was to publicly announce that someone drugged him, when he had not seen that happen — nor had anyone else he was with.
"I didn't know what happened, but something didn't feel right," he told the
Current.
"And I didn't remember anything."
It's an impulse that's irked local sexual assault advocates,
who told the E-N
that his false report only pushes actual date rape victims into the shadows. In a culture where people who've been drugged, and then sexually assaulted, already struggle to be taken seriously,
a single false accusation
of rape or drugging or assault can silence actual victims and kick the conversation around sexual assault
into reverse
.
"When you're drugged and assaulted you have no memory of it, so there's no way to prove it, and so people might not tend to believe you," Deana Franks, director of the Rape Crisis Center in San Antonio,
told E-N reporter
Melissa Fletcher Stoeltje. "It's extremely frightening and very upsetting, so this is a very serious claim for [Warrick] to make."
Warrick's short-lived alibi may have done more harm to future date rape victims than to his political career, but he doesn't see it that way. He told the
Current
he doesn't think his false report hurt future assault victims. Instead, Warrick turned the conversation to rebuilding a relationship with the owner of On the Rocks — and how his competition for the District 2 seat, William "Cruz" Shaw, is using this episode as a talking point. Shaw has asked Warrick to resign and "seek help."
Warrick, who said he doesn't have a problem with alcohol, told the
Current
he plans on working with Mothers Against Drunk Driving and local homeless shelters to make amends.
"I won't say alcohol was the issue," he said. "I take full responsibility of my actions, but I will avoid binge drinking environments in the future."