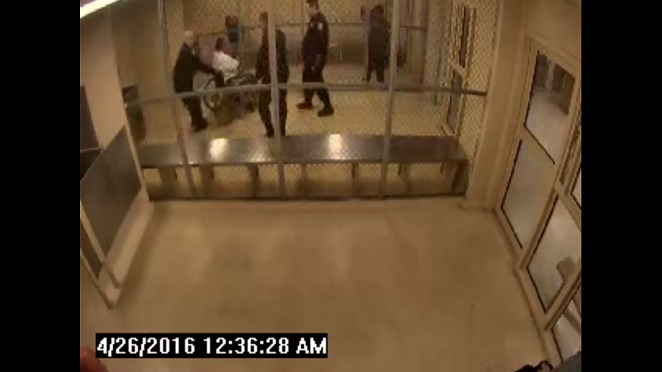 YouTube screenshot
James Myart, seated in a wheelchair
A video released to the
San Antonio Current
appears to show former civil rights attorney James Myart being dumped out of a wheelchair at the Bexar County Magistrate Office.
Myart,
whose license to practice law was revoked in 2008
, is suing the City and some of its leaders for $5 million in damages from this and other incidents, including systemic harassment by public officials.
Watch the video below:
Myart says he obtained the video through an open records request he submitted before filing the lawsuit.
He claims he was arrested on the night of April 25 for outstanding traffic violations, and brought to magistrate court. Myart, who says he's diabetic, alleged he collapsed while waiting for his case to be processed, then he was placed in a wheelchair.
It is unclear what happens before the video begins. However, the video shows Myart reaching his hands in the air as he is wheeled into the cell, before being pushed out of the chair. The officers then appear to handcuff Myart and bind his feet.
One of the officers involved in the incident, Adam Stalker, was fired according to Acting City Attorney Martha Sepeda.
"Most of the staff members at the Detention Center who dealt with Mr. Myart handled themselves appropriately in what was a difficult situation. However, while trying to escort Mr. Myart into a cell, one detention officer lifted the handles on Mr. Myart's wheelchair, causing him to fall to the ground," Sepeda said in a written statement. "This is not the conduct we expect from the City's employees."
City staff would not answer additional questions about the incident, including what happened before the video, because it involves pending litigation.
Myart said that he suffered a torn meniscus and rotator cuff from the incident, and will require thousands of dollars in medical treatment. He said he has medical records that show this, but has not yet provided them to the
Current
. He claims he has no significant financial assets, receives $447 per month in Supplemental Security Income and $147 in other government assistance.
The events in the video comprise just one of the complaints Myart raises in his lawsuit.
The suit alleges that he was also involved in a hit-and-run with an off-duty police officer in March, which was improperly reported, and that the officials named in the lawsuit "perpetuated and condoned, for years, the illegal use of force against black and brown persons by City of San Antonio law enforcement officials."
The City of San Antonio denies Myart's allegations.
Myart said that the incident at the magistrate court stemmed from a deep-seated animosity the City's power structure collectively harbors toward him.
Before losing his license to practice law after
pleading guilty to stealing over $13,000 from the founder of Texas Mexican Mafia
, he often brought lawsuits against the City. He's a well-known critic of local law enforcement, and his bombastic style often ruffles feathers and raises eyebrows.
"They don't like me. ... I've been suing the city police for over 30 years. All of them know me," he said.
In addition to the City as an entity, he also filed the suit against Mayor Ivy Taylor, City Manager Sheryl Sculley, Police Chief William McManus, Deputy City Manager Erik Walsh, Sepeda and several law enforcement officers.
Read Myart's full complaint below: