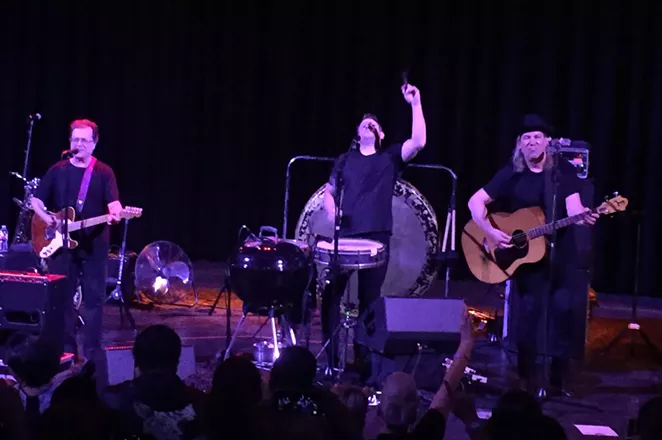 Sanford Nowlin
Violent Femmes add it up onstage at the Aztec Theatre.
There's been no shortage of bands from the '80s rock underground heading out on reunion tours lately. And, no doubt, many of them can competently deliver an evening of post-boomer nostalgia.

While Monday's Aztec Theatre performance by Violent Femmes and X certainly falls in that category, there's one big difference: watching both bands, it was clear that playing music isn't so much an excuse to pay their mortgages as it is part their DNA.
X, one of the most influential bands of LA's early punk scene, has been a touring machine of late. Now reunited with original guitarist Billy Zoom, it's clear that the outfit is eager to show off the chemistry that made its original sound — a mix of punk anger, turbocharged rockabilly and beat poetry — so arresting.
The first chunk of X's hour-long set charged through one brisk number after another, mostly drawn from its first three seminal albums. Drummer DJ Bonebrake drove the train, pounding the snare with a martial focus. The bespectacled Zoom mugged for the crowd while unleashing flurries of rockabilly doublestops as bassist-singer John Doe and singer Exene Cervenka belted out the minor-key harmonies that became one of the band's hallmarks.
X's musicianship came front and center mid-set as it performed the mournful "Come Back to Me." An adjunct musician took over on drums so Bonebrake could move to vibraphone. Zoom, meanwhile, stuck his pick to his forehead like a third eye and added some appropriately smoky saxophone. The band stayed in that configuration for "I Must Not Think Bad Thoughts," one its most overtly political songs. During the tune's extended close, Bonebrake contributed an ethereal solo on the vibes, while Zoom egged him on with snaky runs from his sax.
"If you were waiting for the jazz odyssey, that was it," Doe announced, earning a laugh from the crowd.
He promised the band would stick to punk rock for the rest of the set, and he didn't lie. X delivered the remaining tunes in rapid succession, only stopping long enough after each song for Bonebrake to count off the next. The noisy, mid-tempo "Nausea" proved a highlight, with Cervenka dancing like a rag doll while delivering a suitably wrung vocal performance over the pounding drums and chugging power chords.
While Violent Femmes were considerably looser than the opening act — they seemed to have made several set list choices almost on the fly — that ultimately worked in the Milwaukee-based folk-punk band's favor.
Rather than start with one of its well-worn nuggets that seemed to be ubiquitous on '80s college radio, the quartet led off with the restrained "Adam Was a Man," a track from its 10th and latest studio album. Singer-guitarist Gordon Gano informed the crowd they'd never played it live before.
From there, the Femmes trotted out song after song from relatively recent releases, a reminder that their on-again, off-again career extended well beyond its debut album — a release that seemed to find its way into nearly every disaffected kid's record collection circa 1984. The newer material bore a more introspective bent than the horny teenage desperation that marked that early release, but the Femmes still delivered the material with gusto.
While the newer stuff was clearly unfamiliar to a wide swath of the audience, its delightfully ramshackle delivery wasn't. Gano hasn't lost his reedy, sad-sack vocal delivery, and bassist Brian Ritchie proved how integral his floppy-rubber-band approach to the instrument was to the Femme's sound. New(-ish) drummer John Sparrow bashed out the beat on a standup kit comprised of a parade snare, a single tom and a barbecue pit while saxophonist Blaise Garza added low-end heft via his baritone sax or bluesy interjections with his tenor.
By the time the band reached the first album's "Blister in the Sun" and "Kiss Off" (replete with a chest-rattling bass solo), the crowd was ready for a mid-set singalong.
"Alright, we're just getting warmed up now," Ritchie told the audience.
Over the remainder of the set, the Femmes extended several tracks into chaotic instrumental suites while Garza honked dinosaur noises from the contrabass saxophone that provided the stage's towering focal point. The final stretch also made it clear that the band has cast a wider net than the folk and country influences it punked up for its earliest albums. Smoky blues and a couple of Eastern European-tinged numbers graced that portion of the setlist.
Along the way, you could almost feel the audience smiling along with Gano's unconventional and scratchy guitar solos and the rudimentary, if soulful, fiddle work he applied to a handful of tunes. The chaotic horn-driven breakdown in the middle of "Black Girls" could have tried the audience's patience had it not been handled with the right amount of goofy humor.
In the end, the band's looseness and spontaneity may have been its greatest asset.
As if to prove that point, Gano brought out his fiddle for the first number of three-song encore and launched into a rough-hewn but enthusiastic take on Bob Wills' "San Antonio Rose." Afterward, he told the crowd he liked the song so much he wouldn't mind it becoming a tradition for future Alamo City gigs.
We can only hope that wasn't an empty promise.
Get our top picks for the best events in San Antonio every Thursday morning. Sign up for our Events Newsletter.