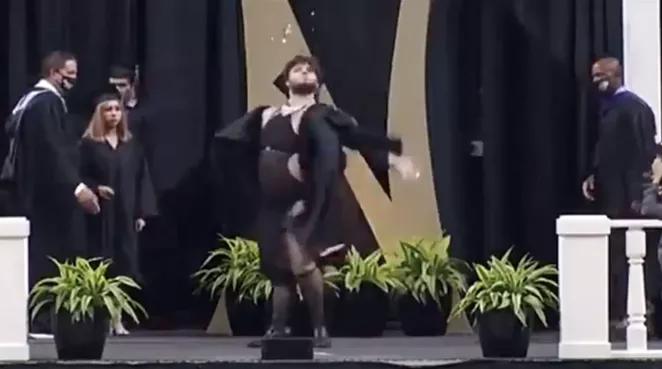 Screen Capture / Facebook / Erial Soliz Hurtado
A Clark High School graduate reveals a naughty garment hidden under the school's graduation robe on June 8.
Fiesta isn't the only thing on San Antonians' minds right now.
As evidenced by the
Current
's most-read stories of the week, the Alamo City zeitgeist also seems to be consumed by the slow-mo train wreck that is our current political climate.
Readers clicked on a story about the outrage surrounding a local high schooler's brave graduation-night fashion choice and also on a piece examining Sen. Ted Cruz's latest bizarro Twitter exploits.
Large numbers also read — and reshared — a story about SA artist Rafael Gonzales Jr. delivering a not-so-subtle message to Texas' increasingly authoritarian governor — rendered, of course, in tasteful papel picado style.
Read on to see what other pieces of content folks were able to sneak in while Fiesta pre-gaming. In honor of the citywide party, consider it news on a stick.
10.
Traders Village San Antonio debuts new, 10-acre sunflower field with maze and other activities
9.
Gov. Greg Abbott signs open-carry bill in San Antonio and the pro-gun crowd shouts down a reporter
8.
Assclown Alert: Unpacking Gov. Greg Abbott's theater at the U.S.-Mexico border
7.
Man suspected of stabbing San Antonio woman at Palladium movie theater turns self in
6.
University of Texas at San Antonio bags $40 million donation from billionaire MacKenzie Scott
5.
Star Wars' Hayden Christensen and Ewan McGregor join lineup of San Antonio's Celebrity Fan Fest
4.
Fiesta finally returns to San Antonio — and here are some of its highlight events
3.
San Antonio artist Rafael Gonzales Jr. debuts papel picado-style 'F*ck Greg Abbott' shirts
2.
Twitter rips Ted Cruz over awkward video where he recites Pledge of Allegiance, claims its 'controversial'
1.
San Antonio high school graduation walk goes viral after student shows off revealing dress under robe
Stay on top of San Antonio news and views. Sign up for our Weekly Headlines Newsletter.