Jalapeno ceviche $5.99 and strawberry margarita $3.99
Name: Costa Pacifica
Background:
Opened by owner Moris Saide, Costa Pacifica is the embodiment of his childhood growing up on the coast of Mexico. Boasting "serious Mexican-style seafood" the restaurant opened in 2014 and has been a staple in the Stone Oak area since.
Happy Hour:
Happy hour runs Wednesday through Friday from 3 to 7 p.m. then all day Monday and Tuesday. It features food specials for $5.99, wells, margaritas, and beer bottles for $2.99 along with a discount on premium spirits and shots. Up your house margarita to a flavored one for an extra dollar.
Patrons:
While the crowd might vary on a Friday or later into the night when they offer all night happy hours, the daytime happy hour is host to groups of mompreneurs and PTA higher-ups who gather and gossip over ceviche and inexpensive margaritas.
Experience: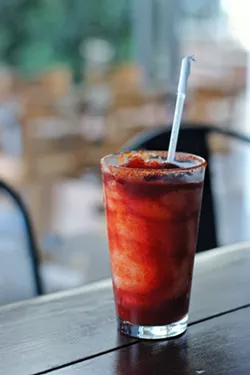 When entering the establishment, you walk right into the bar area, and can either sit yourself or wait for a server to come and seat you in the actual restaurant. It doesn't matter which you choose, as the specials are available throughout the joint and, save for the group of ladies sipping on flavored margaritas, the seating is ample.
While you wont be greeted with a big grin and a loud "Welcome!" at the door, the service at Costa Pacifica is decent. The servers know the menu well, they are kind, and they know how to give a table and a patron space. The menu has a wide variety, featuring different dishes focusing on fish, with nachos for the non-adventurous types.
The drink menu only consists of bottled beers, wells, and frozen margaritas, but they are very decently priced, and if you are interested in spending more, Costa Pacifica does have a couple of craftier cocktails.
Costa Pacifica offers a cheap alternative to the pricey Stone Oak area. It's a great place to pull over and kill an hour while waiting for traffic on 1604 to die down, or to just meet a big group for a quick bite.
434 N. Loop 1604 W, (210) 491-1378.
Erin Winch writes about boozin' in the Alamo City on her blog
Drinking In SA
. Follow her on Instagram at
@drinking.in.sa
for more.