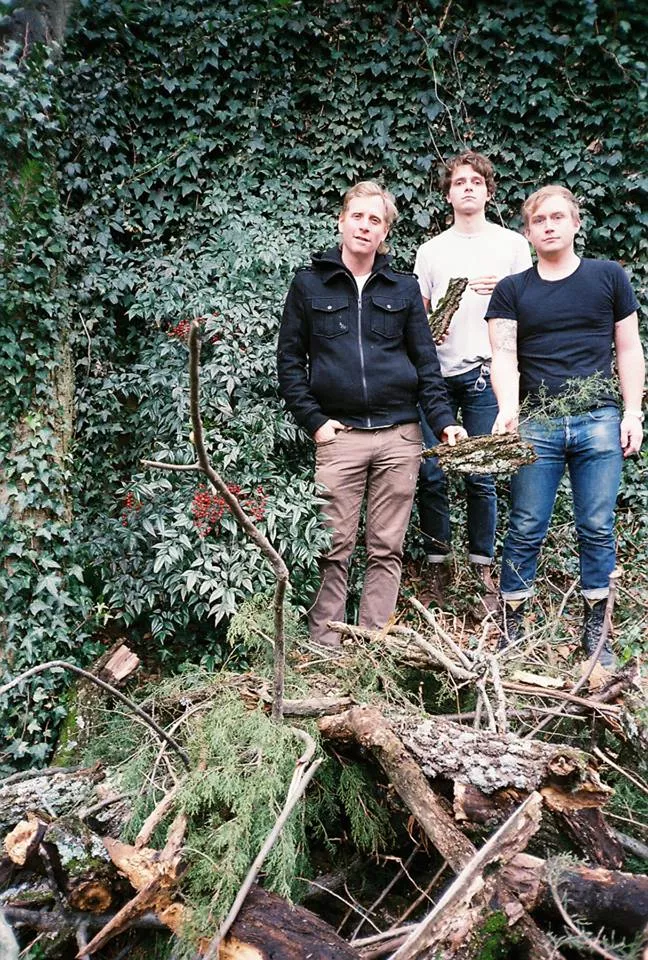 If you read enough music writing, inevitably you're going to encounter the same set of cliches. Like running into an ex in a small town, they always seem to be there. Buoyant, dreamlike, effortless, jangle,
slacker
, stalwart — there's a niche nerd market out there for an
ABC Book of Bad Music Writing
.
Taut is one of those words that is always posting up in post-punk reviews. It fit great before it began to wear: the
definition
is "stretched or pulled tight; not slack," "tense; not relaxed, "concise and controlled" or "having a disciplined and efficient crew." From Institute to Joy Division, Wire to Women, each of those definitions lines right up as a descriptor. One could imagine a career retrospective for post-punk hero Bernard Sumner borrowing the word for its title.
All that is to say that taut is a bit of a lazy descriptor for Atlanta trio Omni. But it's hard to get closer with just one word. On their debut record
Deluxe
, the taut band steals a trick from tightrope walker and performance artist
Philippe Petit
, who would venture out to the middle of his rig then bob on the wire to create suspense.
Omni's wire is the backbeat, a true and steady guide on which they carefully pile guitars, bass and the occasional piano. Once in the thick of it, the instruments tackle each other with opposing rhythms, hoping to knock the listener out of equilibrium. Through 10 cuts of minimal, masterful post-punk, the band turns this trick into a riveting and rewarding songwriting device.
The Georgia outfit takes its name from the
Omni
Coliseum, the original stadium of the high-flying, high-top-fade of the Dominique-era Atlanta Hawks (it's too bad we're in the era of corporate stadium names; surely no San Antonio band is die-hard enough to name their combo the AT&T Center). It makes sense from a half-time TV shot of the stadium, all triangles and brutalist angles, without a whole lot of polish.
Home-recorded and rough around its many edges,
Deluxe
is the type of effort that probably works better in the mire. It does make for a heavy dose of
mondegreen
though. Snippets and phrases come and go, like catching scraps of conversation walking down the street. On "Chandelier" — a tune that betrays guitarist Frankie Broyles' stint in Atlanta heavyweights Deerhunter — we get a full view of the picture. Inspired by a friend's jewelry and decorating, singer Philip Frobos tries to hang around — ""You have such nice glassware / Was I the first to stare / At your earring chandeliers / I want to grab on and swing."
On lead single "Afterlife," Frobos, in an eerily blasé tone, sounds fine with his own demise — "I've been feeling a lot more stately/ Now that I know my death." We might not get to hear every muddled idea on
Deluxe
, but when Frobos opens up for a few stanzas, it's clear that the language is just as punchy and smart as the guitar work.
$12, 7pm, Paper Tiger, 2410 N. St. Mary's St.