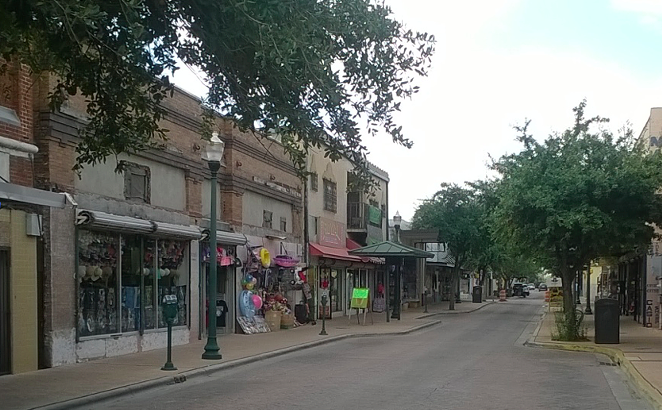 Mark Tirpak
What can an up-and-coming downtown Laredo offer San Antonians?
If I had more time, I could have traveled to Monterrey for $1.10, courtesy of
online fares
that Greyhound offered throughout the summer to promote new services between San Antonio and Mexico. Instead, I paid Greyhound a few dollars more (under $20 round trip) to
visit downtown Laredo, Texas
for the day. To take in the historic downtown on foot as well as explore exactly where new
outlet shops are planned to open in Autumn 2016
and contemplate what this and other developments could mean for San Antonio.
Laredo's downtown outlet shops including an H&M will be close to international pedestrian and traffic bridges, just a few blocks from the city's comfortable Greyhound station on Farragut Street near
Jarvis Plaza
. For the estimated
31 million annual
visitors to San Antonio and more expected to arrive by air to visit the UNESCO World Heritage Missions, having outlet shopping as well as Laredo's
international
airport
linked by easy and affordable bus from historic downtown to downtown could connect our cities in new ways. Regardless, various Laredo offerings and opportunities should help our leaders improve downtown San Antonio now as well as envision a San Antonio '
megaregion
' beyond Austin's shadow.
For San Antonians to consider: Laredo's Greyhound station and major local transit hub is in extremely close walking distance of downtown parks, cafes and shops including an H-E-B; it is also near towered and inexpensive housing options including the gorgeous historic
Hamilton Hotel
recently retrofitted for seniors. Bus travelers can stay at the affordable historic
Rialto
Hotel
in stumbling distance of the station or at the historic
La Posada Hotel
off San Augustin Plaza on Zaragoza Street near planned outlet shopping. Such offerings suggest how downtown San Antonio's
alarming number of vacant buildings
could be filled with uses supporting economically mixed visitation and lifelong downtown living without a car.
Ideally, Laredo's new downtown outlets will support the city's current storefront and market offerings, including a growing
new wave of street food vending
and a wealth of small discount electronics, homewares, and clothes shops. Although I visited on
16 de Septiembre
and the last day of Nuevo Laredo's annual
ExpoMex
carnival, I never felt overwhelmed by crowds and the streets weren't defined by tourists. I did, however, notice the heat even on an overcast day and particularly on east-west streets. True for San Antonio as well, more greenery, shade and outdoor café style seating around downtown Laredo could further accommodate visitors and downtown residents.
A return trip to Laredo for me would include taking in
San Augustin Cathedral
built in 1872, as juxtaposed with the recent work of
Frank
Architects Inc (FAI)
around town. I would also visit the shorefront
Los Tres Laredos Park
as well as the
Zacate Creek Greenway
for birding and hiking, as capped with a visit to the City's outdoor
Inner City Pool
, which is open year-round – an amenity sorely missing from San Antonio currently.
It is not yet mapped with Google, but Laredo's public
El
Metro Bus
appears to offer the fastest public
airport
service in Texas currently at 20 to 30 minutes from downtown via Route 11, with a stop close to Greyhound as well as near hotels not far from the airport and
Laredo Energy
Arena
– just west of Lake Casa Blanca. Frugal San Antonio travelers should definitely consider Laredo's current discount air links with Las Vegas and seasonal flights to Orlando via
Allegian Air
. Including Greyhound and El Metro Bus, a well-timed Las Vegas trip can cost under $150 round trip with time to explore downtown Laredo, although limited Sunday evening El Metro Bus runs could have a traveler at the airport well before a flight.
It will be interesting to watch what happens next for both San Antonio and Laredo in terms of attracting visitors and residents with
Allegiant Air offering new direct and discount services to and from San Antonio
beginning in November. Taking approximately three hours combined, bus between Laredo International Airport and downtown San Antonio is roughly the same as bus connections between San Antonio and Austin Bergstrom Airport currently. A Greyhound and Megabus stop at San Antonio International Airport, similar to offerings at Miami and Atlanta and in addition to the downtown station, could help strengthen and possibly speed San Antonio-Laredo connections as well as establish SAT as the easiest major airport to reach without a car in our region.
Winding around downtown Laredo near the riverfront and traveling via Greyhound, the presence of US Border Patrol was clear to me; my bus was searched before departing Laredo and again at a checkpoint heading north. Both directions, my Greyhound buses happened to be newer, with comfortable leather(ish) seats, power plugs for each seat row, cup holders, ample leg room and free wifi. I wrote most of this article on the way back enjoying amazing views of the Texas sky and thinking about the possibilities of future Laredo runs.