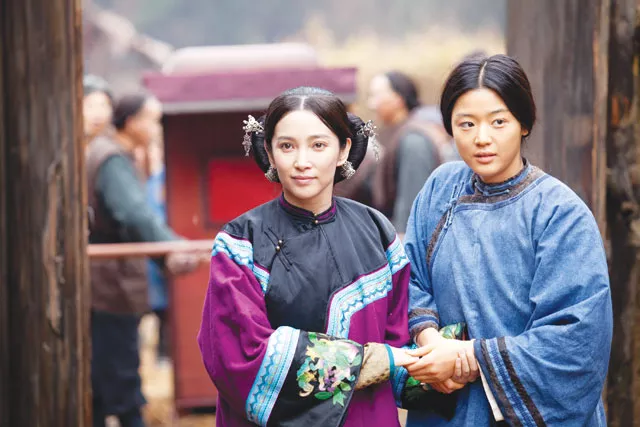 Courtesy photo
Inseparable — Bingbing Li and Gianna Jun in Snow Flower and the Secret Fan.
Podiatry is destiny, not merely for ballerino Rudolf Nureyev and soccer star David Beckham. In pre-Mao China, foot binding shaped a girl's matrimonial prospects, and marriage determined a woman's lot. Lisa See set her 2005 novel Snow Flower and the Secret Fan, which Wayne Wang has now adapted into a feature film, in a 19th-century Hunan province. In it, two seven-year-olds, one from a wealthy family and the other from a humble one, undergo the painful rite of having their arches broken and their feet constricted into a lovely lotus shape. Despite Lily's modest background, the beauty of her feet ensures her an aristocratic husband. By contrast, Snow Flower's father, an opium addict, squanders the family fortune, and his daughter ends up yoked to a boorish, abusive meat butcher.
Lily and Snow Flower are pledged to each other as soul mates in a formal ceremony called laotong — literally, "old same." Despite the strains created by distance, disease, war, marriage, and misunderstanding, the intimate friendship of Lily and Snow Flower remains the most vital force in either woman's life. The secret fan in the title of See's novel refers to a white silk accessory between whose folds Lily and Snow Flower inscribe private messages that they exchange throughout the years. They write in nu shu, a form of simplified calligraphy that was unique to women in southern China. Snow Flower and the Secret Fan is the story of how two linked lives converge and diverge.
Doubling is desirable in baseball, but in cinema it can sometimes seem like a screenwriter's stammer. The film version of See's novel provides a superfluous pair of laotong pals — not only Lily and Snow Flower but also Nina and Sophia, two contemporary Shanghai women whose relationship parallels the earlier couple so completely that it makes sense that Bingbing Li plays both Lily and Nina and that Gianna Jun plays both Snow Flower and Sophia. The film continually crosscuts between contemporary Shanghai and 19th-century Hunan, framing the older story as a novel written by Sophia. Her best friend Nina reads it in manuscript form while Sophia lies in a hospital bed, comatose from a bicycle accident. Since few 19th-century Chinese are likely to buy movie tickets, it appears likely that the contemporary plot was added to appease audiences impatient with anything alien. A similar impatience might also explain why the characters in Shanghai, the largest city in China, speak English. The story of Snow Flower and Lily is so fragmented — a typhoid epidemic one moment, the Taiping Rebellion another — that Nina and Sophia, even comatose, steal the show.
Wendi Murdoch, now famous for pouncing on a comedian as he tossed a cream pie at her husband, Rupert, during a Parliamentary hearing, is credited as one of the producers, and this earnest production is devoid of comic touches. The music is enchanting, and the sets and costumes are exquisite, but Snow Flower and the Secret Fan is aiming not for secret fans but rather for tearful mass audiences. Sharing the hardships, disappointments, and satisfactions of women consigned to domestic slavery by an oppressive patriarchy, we are invited to wallow in the ooze of sisterly bathos. "It is not a woman's place to worry," Lily's husband reassures her. A woman's place is confined to the bedroom and the kitchen, unless she finds transcendent freedom in laotong.
The sententious dialogue guarantees that a viewer will know exactly what to think, unless that viewer is allergic to oracular utterances such as: "Fate has taught me that I am just another woman" or "Only through pain will you find beauty." Against the backdrop of Shanghai's frenetically reconstructing cityscape, it is not necessary to be told that: "The world is always changing."
Director Wang has changed dramatically since his early independent productions. Chan Is Missing, Eat a Bowl of Tea, and Dim Sum: A Little Bit of Heart established him as the most compelling cinematic chronicler of the Chinese diaspora in America. With The Joy Luck Club, Maid in Manhattan, and, now, Snow Flower and the Secret Fan, Wang has abandoned his nu shu, his personal language, to embrace big budgets and broad effects. Puzzled by what has become of her friendship with Sophia, whose mysteries she tries to fathom, Nina wonders aloud: "How did we end up here?" When a character has to ask that, there is something wrong with the script, as well as the trajectory of Wang's career. •
Snow Flower and the Secret Fan
Dir. Wayne Wang; writ. Angela Workman, Ronald Bass, based on a novel by Lisa See; feat. Bingbing Li, Gianna Jun, Vivian Wu. (PG-13)