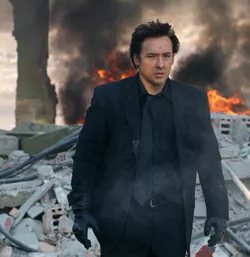 War, Inc.
Director:
Joshua Seftel
Screenwriter:
Joshua Seftel
Cast:
John Cusack, Marisa Tomei, Joan Cusack
Release Date:
2008-06-25
Website:
http://www.firstlookstudios.com/films/warinc/
Rated:
NONE
Genre:
Action
Much ink has been spilled over the American public's apathy toward movies inspired by the Iraq War. Last year, the Weinstein Company paid several million dollars for Grace Is Gone, which starred John Cusack as an Iraq War widower, only to see it bomb disastrously. Cusack's second stab at addressing the war, War, Inc., has quietly become a minor arthouse hit. It would be refreshing to report that it's the contemporary equivalent of Dr. Strangelove or Catch-22. Alas, it's a lowest-common-denominator comedy, the equivalent of a Larry the Cable Guy vehicle for readers of The Nation.
Cusack, who co-wrote and co-produced War, Inc., plays Hauser, a hit man employed by Haliburton stand-in Tamerlane, which is overseeing the U.S. occupation of Turaqistan. Its CEO (Dan Aykroyd, imitating Dick Cheney) orders Hauser to kill oil minister Omar Sharif (Lyubomir Neikov). Despite misgivings about his line of work, which lead him to gulp shots of hot sauce, Hauser is sent to Turaqistan with the cover mission of overseeing a trade show that culminates in the wedding of sexy Turaqi singer Yonica Babyyeah (Hilary Duff). He also meets a liberal reporter (Marisa Tomei), to whom he is attracted despite her politics.
Like Catch-22 and Thomas Pynchon's novels, War, Inc. is filled with silly names. Unlike them, its comic vision is puddle-deep. It's full of random pop-culture references that lead nowhere. Why is Omar Sharif named after the actor? Could War, Inc. be making some point by conjuring up one of the few world-famous Arab performers? Your guess is as good as any. Just in case no one picks up Yonica's resemblance to a certain troubled American pop singer, her entourage includes Kevin Federline.
War, Inc. veers from dark comedy to actually caring about its characters. Unfortunately, most of them are walking cartoons. One might expect a nuanced vision of the Middle East from an overtly liberal movie, but War, Inc. is no less insulting toward Arabs than the Hollywood norm. All young men in Turaqistan are thugs or wannabes whose primary role models are 50 Cent and Ali G — not necessarily in that order. War, Inc. grants Yonica the courtesy of being a deluded victim of a patriarchy that sexualizes everything, even offering a moment where she channels her inner Joni Mitchell, but it eventually reveals, in a faintly racist twist, that she's really a white American. Ultimately — and despite its good intentions — War, Inc. bears the marks of a vanity project. Every character not played by Cusack seems just a little less human than his sensitive hit man. Unfortunately, the movie itself is no sharper than its dimmer characters.