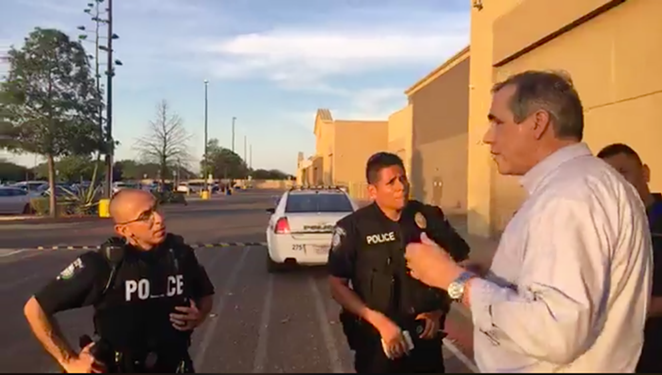 Via Sen. Jeff Merkley's Facebook page
Sen. Jeff Merkley talks with Brownsville police outside of an center housing immigrant children.
U.S. Sen. Jeff Merkley's visit Sunday to a South Texas facility housing migrant children ended up with the federal contractor running the center calling the police and asking him to leave.
Merkley, D-Oregon, is looking into the Trump Administration's policy of separating asylum seekers from their children when they try to cross the border, so he had his office call to arrange a tour of the Brownsville facility. After getting no response, the senator showed up with a camera crew and
streamed the video
to Facebook.
In the clip, Merkley phones from outside the building — a former Walmart store with its windows blacked out — and asks to speak to a supervisor. Once the supervisor finally makes an appearance, he gives Merkley the blowoff and offers up a Washington number for the Department of Health and Human Services for comment.
Brownsville's finest also show up, asking the politician to spell his name and provide his birthdate so they can file a police report.
"It's October 24, 1956," Merkley responds. "I'm a U.S. senator."
"I haven't been asked to leave the property, but I'm guessing that's what's about to happen," Merkley adds a few minutes before the supervisor finally tells him and the film crew to get lost.
Political theater? Absolutely.
But Merkley clearly sees the encounter as an opportunity to embarrass the administration for a punitive policy that's not likely to play well outside its most rabid anti-immigrant base.
U.S. Rep. Joaquin Castro, D-San Antonio,
held a rally here last week
to draw attention to the practice, which separated nearly 700 children from their parents last month. Others protests have taken place around the country, often announced using the #FamiliesBelongTogether hashtag.
On Twitter, Trump has falsely blamed the family separations on Democrats, even though Jeff Sessions, his own attorney general, announced the zero-tolerance policy last month with a hefty dose of tough talk.
"If you don't want your child separated, then don't bring them across the border illegally," Sessions said.
Stay on top of San Antonio news and views. Sign up for our Weekly Headlines Newsletter.