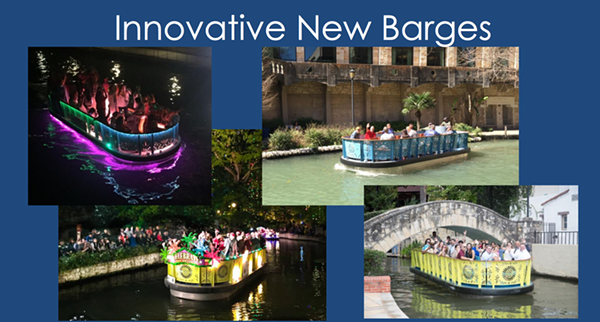 COSA
From the city manager's office presentation to city council

Update 5/26/17 at 10am:
Over the recommendation of the City Manager Sheryl Sculley, council voted 10-1 to award the 10-year, $100 million river barge contract to Go Rio San Antonio, a partnership between former Texas Secretary of State Hope Andrade (now VIA Metro chair and part of a local powerhouse consulting group), local restauranteur Lisa Wong and Houston-based restaurant chain Landry's. Nirengberg unsurprisingly cast the single no vote.
—
(Original story)
Here's a probably dangerous drinking game: Watch a city presentation on the next big, new "innovative" thing council wants to bring to downtown San Antonio and take a swig every time someone says something like "transformational," "authentic," "world class," "world stage," "elevate," or "game-changer."
Those were just some of buzzwords clouding city hall last week when council heard from the two companies vying for the 10-year, multi-million dollar contract to run the city's fleet of boats on the Riverwalk (a contract currently held by
Rio San Antonio Cruises
, which offers river tours, chartered boats and river taxis), or "barges" as city officials call them.
Ahead of Thursday's council vote on the contract, both companies took the apparently rare step of actually pitching their plans in an open, public meeting after Mayor Ivy Taylor
threw a wrench into the closed-door selection process
earlier this year, claiming it has been tainted "beyond redemption" by questionable city lobbying.
Which has only turned the river boats (mostly used by tourists, not San Antonians) into what has to be one of the lamest political proxy wars to ever suck up oxygen at City Hall as Taylor and District 8 Councilman Ron Nirenberg head into the June 10 runoff in the mayor's race.
Up for consideration are Go Rio San Antonio, a partnership between VIA Metro Transit chair Hope Andrade (the former Texas Secretary of State turned high-powered lobbyist), local restauranteur Lisa Wong and the Houston-based Landry's restaurant group. The other team council heard from last week was San Antonio River Cruises, the spinoff of a Chicago-based company called
Entertainment Cruises
that operates chartered riverboats and cruises in cities across the country, which has vowed to team up with local chef and restaurant magnate Johnny Hernandez if it wins the estimated $100 million contract.
Here's a quick breakdown of why the riverboat contract became such a big, controversial deal: After nearly three years of starts and stops, the city was finally ready to pick a barge contractor in February when Taylor
blew up the selection process
and made it start all over again after hearing reports that former mayor and attorney Phil Hardberger got a slight edge up at City Hall while lobbying on behalf of Chicago's Entertainment Cruises during its first pitch to a city selection committee.
Nirenberg cried foul
, claiming Taylor had disrupted the process just because she didn't like the outcome. We'd love to give you Taylor's explanation, but her campaign has repeatedly refused to grant us an interview with her throughout the mayor's race (perhaps because we continue to write things like
this
,
this
,
this
or
this
).
While the city manager's office scored Entertainment Cruises in first place at the end of that first round, Rio San Antonio came out ahead in the second round after getting a slight boost from the city's Small Business Economic Development Advocacy program. This is largely because Andrade and Wong decided to become 51 percent owners in their potential partnership with Landry's.
That's clearly not what the city manager's office wanted. Assistant city manager Carlos Contreras
claimed a city-picked committee of business owners and other downtown "stakeholders" largely favored Entertainment Cruises during both rounds. The Rivard Report, which is apparently doubling as the news wing of the city manager's office at this point, ran
no less
than
three
op-eds in two days this week explaining why Entertainment Cruises should get the contract, all arguing the company's size and experience make it the clear winner regardless of any special consideration afforded locally-owned bidders.
The Go Rio team, which pitched first, played hard into the locals-versus-outsiders debate that's now clouding the discussion over the riverboats. Andrade told council, "You cannot put a score on the love, respect and commitment we have to our great city and to our Riverwalk." Bonnie Garcia, the MarketVision CEO in charge of Go Rio's marketing plan, later explained to council that the company would market a "cultural, authentic" riverboat experience to tourists and locals alike — say, with coffee and pan dulce offerings for morning rides, or a new cartoon duck river barge "mascot" they're calling "Rio Rita." (Seriously.)
Hernandez kicked off the Entertainment Cruises pitch by saying he was honored "to be a part of something transformational for our city" before hinting at vague plans to build a kitchen somewhere on the Riverwalk in connection with the company's vision for chef-catered riverboats. Paul Sanett, an Entertainment Cruises executive, called his company "the premier operator of anything on the water in the United States." Sanett also highlighted the company's plans to work with Centro (
which has its own weird history
with the city manager's office) to create a "community enrichment fund" of some $2.5 million over the course of a decade for, in Sanett's words, "community development and enrichment events." Whatever that means.
Hardberger's pitch at the end of the presentation sounded more like a thinly-veiled threat to anyone who dares vote against such a transformational vision for the city's Riverwalk dinghies:
"I fault no one for weighing this matter though the political prism. Impure thoughts can be forgiven. Impure acts that injure our city will not be forgotten. They follow you around. Ultimately, it's not even good politics. You can make one constituent happy and lose a thousand votes. The public is not easily confused. They understand what choices are being made."

As the Express-News now reports
, the whole thing has devolved into a lobbying and marketing frenzy as council heads into the Thursday barge vote — resulting in, depending on how you look at it, either a harried effort to "transform" the Riverwalk in time for the city's tricentennial or just another multi-million dollar taxpayer-funded project clouded by controversy.
Either way, Hardberger's final, melodramatic warning is likely still bouncing around inside the brains of city officials up for re-election in the June 10 runoff: "Everyone will know how every one of you votes."