Despite the natural flow and comedic gait of Kurt Vonnegut's prose, writing didn't come easily for the author. Vonnegut called his profession "clerical," a frustrating task of compressing narrative and style into the confines of the page. But drawing in felt-tip offered an escape for the novelist, an instant outlet from the toil of his written word. "The making of pictures is to writing what laughing gas is to Asian influenza," Vonnegut wrote in his 1991 essay collection
Fates Worse Than Death
. Like a radiant child more proud of his margin's doodles than his day's schoolwork, Vonnegut took to drawing late in life with a creative ease he never found in his day gig. Seven years after his death, the Vonnegut estate and The Monacelli Press have collected 145 of the author's drawings in a hardcover visual companion for his devoted readership. Drawn in felt-tip pen and marker, Vonnegut's doodles vary in effect, from funny, frumpy self-portraits in thick ink to abstract, careful line drawings in vibrant color. But whether it's a Cubist-leaning comic or a graphic transposition of the word "sleep," the pieces carry the cutting, weighted humor of Vonnegut's 14 novels, works like 
Breakfast of Champions
 and 
Slaughterhouse-Five
 that contained little doodles in the narrative.
Self-portrait, February 16, 1985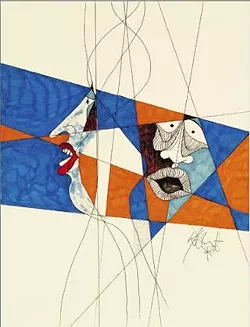 Untitled, no date
Drawings
 opens with a poignant introduction from Nanette Vonnegut, the novelist's youngest daughter, who operates as an artist out of Northampton, Ma. Writing on the "cartoon tornado" of her childhood home on Cape Cod and the unique bond she and her dad shared through their art, the younger Vonnegut peeks into the inspiration and eccentricities of her father. Following Nanette's introduction, Vonnegut scholar and personal friend Peter Reid contributes with a more technical essay, diving into the themes and forms in the author's drawings. Reid also points to Vonnegut's influences in the art world: Paul Klee, Alexander Calder and Georges Braque, lauded by Vonnegut as "a special hero." A sucker for the "brilliant colors" of marker, Vonnegut filled in the shaded segments of his work with distrust. The colors show jagged strokes in multiple directions, lending an intentional amateurism to Vonnegut's "felt-tip calligraphs," as if too much attention to craft and detail would ruin the fun. Vonnegut's most consistent and most fruitful subject is the human face, expressed in some likeness in well over half the drawings. "That's how we go through life, reading faces very quickly," said the author on his favorite form. Vonnegut's faces include a buxom woman with a dystopian visage, dissections of faces into Cubist patterns and kaleidoscopic portraits both haunting and hilarious. In these drawings, Vonnegut joked with the human shape like he did with the human condition in his prose.
Untitled, September 25, 1985 Despite his rip-roaring humor, Vonnegut was scarred by his time as a soldier and POW in Germany, experiences nursed regularly in his novels. But in his mischievous art, the author seemed to get away from all that. As Nanette Vonnegut writes, "I believe my father forgot about the War when he doodled."
Kurt Vonnegut Drawings
Introduction by Nanette Vonnegut The Monacelli Press | $40 | 176 pp