Courtesy of Impossible Foods
A vegan burger patty, a product of an astutely marketed startup, and it just so happens to bleed...
That's the abridged story of The Impossible Burger by Impossible Foods, a startup that launched in 2011 with one goal in mind: answering "Why does meat taste like meat?" and reengineering the answer using only plant-based ingredients that help curve the "land-hungry, water-thirsty, and pollution-heavy" process of raising beef.
The burger made its way onto menus — beginning with a launch inside David Chang's restaurant Momofuku Nishi in 2016 — and is now served in two dozen additional restaurants in New York, California and Nevada.
Austin-based
Hopdoddy
rolled out the Impossible Burger, made with water, textured wheat Protein, coconut oil, potato protein, natural flavors, 2 percent or less of: leghemoglobin (soy), yeast extract, salt, soy protein isolate, konjac gum, xanthan gum, thiamin (Vitamin B1), zinc, niacin, vitamin B6, riboflavin (vitamin B2), and vitamin B12, to 11 of its restaurants in Austin, Houston, Dallas-Fort Worth and San Antonio as of today.
"We want to grow together with Hopdoddy," said Impossible Foods CEO and Founder Patrick O. Brown, M.D., Ph.D. in a press release. "And it's fitting to start our relationship right here, in Texas, which has the most discerning burger experts on the planet. We encourage all of them to try The Impossible."
After watching the video (above), I drove over to try said burger. Initially, the only thing impossible about it was finding parking. Otherwise, ordering went smoothly even with Hopdoddy's quirks, and we even scored Impossible Burger swag bags. Filled with temporary burger tattoos, beer koozies, and an Impossible pin, the black Impossible Burger tote was a nice touch especially after forking over $14, making the burger the most expensive on Hopdoddy's menu. (Can't complain too much, it's $18 in Houston). Another small note: unless diners go in knowing what an Impossible Burger is, the menu makes no indication of its plant-based nature.
Though not vegan at Hopdoddy, as its served with Tillamook cheese and a mayo-horseradish-honey mustard "Sassy Sauce," the burger qualifies as vegetarian for our purposes. The two veggie friends and an omnivore work-wife and I waited for our respective orders for a relatively short amount of time.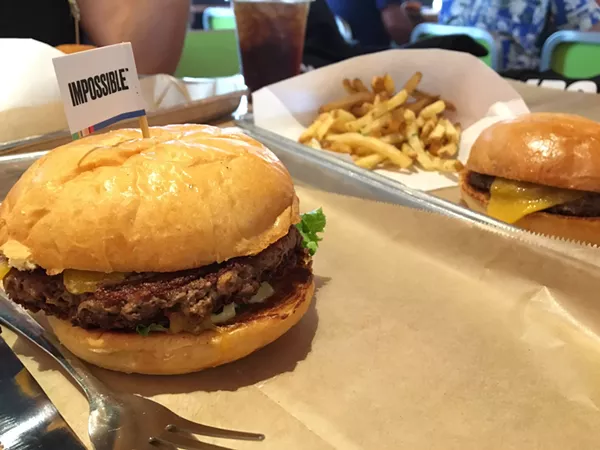 When the burger graced us with its presence, complete with Impossible toothpick banner, we dissected it, looking for any discernible differences from its meaty counterpart — I ordered a kids burger to keep as reference. The Impossible burger is just as appealing as a beef patty, at least to this meat eater. When sliced to show a cross-section, it didn't bleed, which is fine. That's caused with the addition of heme, "the same molecule that carries oxygen in your blood and makes it" per the video. I don't usually order my medium to medium well burgers with the expectation of it bleeding all over my plate...
The burger is good. It's charred enough to create a crisp texture and bite, and accompanied Hopdoddy's house-baked bread, Tillamook cheddar and fresh fixins, it IS almost impossible to differentiate it from a beef patty. Almost. When compared directly to the kids burger, with the smaller Angus patty, I preferred the Impossible, but the Sassy Sauce, Tillamook, and crunchy char definitely helped.
Learn more about Impossible Foods
here.


17623 La Cantera Pkwy., Suite 101, (210) 434-2337.