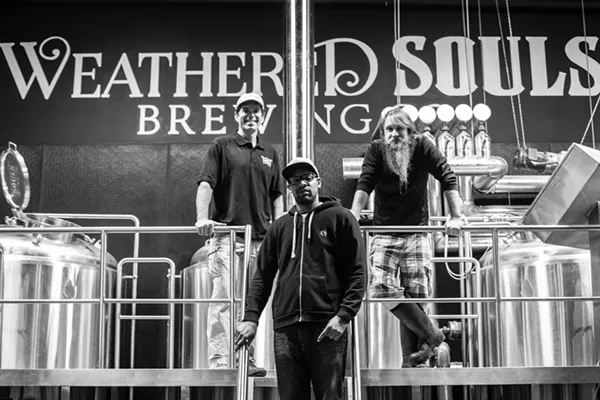 Courtesy of Weathered Souls Brewing Company
Though first announced this June,
Weathered Souls Brewing
will finally open its doors this Saturday, November 19 at 606 Embassy Oaks, Suite 500 with a ribbon cutting at 11:30 a.m.
Hours for the brewery will be noon to midnight for Saturday and the brewery will feature blondes, pale ales, New England style IPAs, West Coast IPAs and stouts.
Owner Mike Holt, master brewer Marcus Baskerville, and Senior VP of business development Michele Boggs will be on-hand during the opening to lead tours and answer questions on the beers available.
Here's some of what we learned about the guys in our June write-up:

The guys met about a year-and-a-half ago over beer, of course, and just seemed to gel. Planning for a brewery of their own came soon after. The Weathered Souls moniker does have a backstory. A fan of the mariners of old, Holt loved how antiquated ship logs referred to people as souls. This got him to reminiscing about his father and grandfather having been around the block and the name just came together.

Don't expect the décor and vibe of the place to remind you of a weather-beaten port, though. It will have a bit of a worn look; however, the style will definitely have a largely contemporary feel. The guys don't want to be pretentious, instead focusing on approachability in everything from the décor to the brews and the menu.

Read more about Weathered Souls
here
.