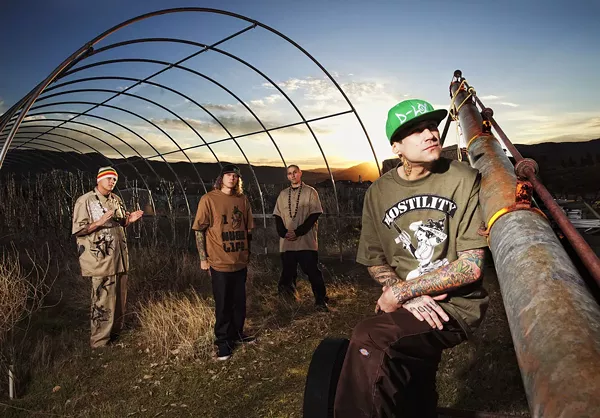 "Kottonmouth Kings telephone rings!"
As labelmates of the Insane Clown Posse, Kottonmouth Kings have a built-in audience of Juggalos, ICP's cult fanbase. But instead of focusing on "Miracles" and forming their own religion (seriously) like their Psychopathic Records brothers, Kottonmouth Kings focus all their energy on bong rips.
One of their more popular songs, 2011's "Cruzin'," is hip-hop's answer to Smash Mouth and Guy Fieri — all about chillaxing, California and having fun. Most songs follow the same formula, and though their sound has slightly changed over time, they're still pretty obsessed with the same subject matter. Try a how-many-times-marijuana-is-mentioned smoking game and you'll be incapacitated after the third song.
$21, Fri Dec. 7, 7pm, The Rock Box, therockboxsa.com.
Get our top picks for the best events in San Antonio every Thursday morning. Sign up for our Events Newsletter.