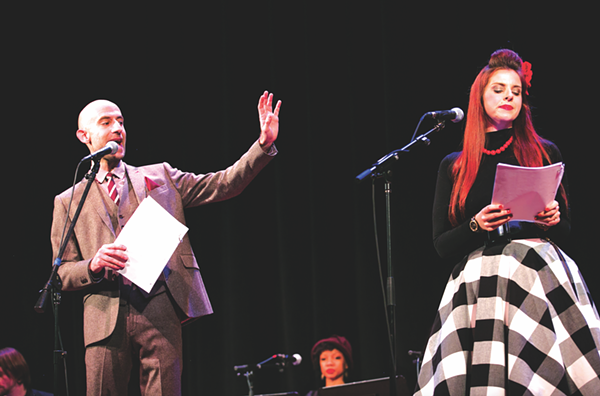 Welcome to Night Vale, a podcast styled as community radio of the weird, takes listeners to a mythical desert town in which all conspiracies are real and enigmatic disasters seem to strike every other week. Each episode is narrated by radio presenter Cecil Palmer (voiced by Cecil Baldwin), who provides community updates on hooded figures in the dog park, the secret police, the faceless old woman secretly living in your home, and — most terrifying of all — street cleaning day.
Night Vale returns to San Antonio for its third live tour, featuring an all-new production entitled All Hail. The show is centered on the Glow Cloud, an eldritch horror that hypnotizes Night Vale's citizenry and drops dead animals on its streets (and also happens to serve as President of the Night Vale School Board). The show will feature Baldwin alongside several guest stars, and musician Mal Blum will perform as "The Weather."
Meg Bashwiner — who reads the credits and proverb at the end of each episode of Welcome to Night Vale and plays the recurring character Deb, a sentient patch of haze — took some time before the show to chat about all things Night Vale, live theater, and the show's expansion into other forms of media.
According to Bashwiner, Night Vale co-creators Joseph Fink and Jeffrey Cranor decided to up the ante for the actors in the latest live show, which led to a final product that includes "several instances where actors are playing more than one character at once."
"The theater of it is in the switching from voice to voice and character to character in front of your eyes," says Bashwiner, who will demonstrate this on stage herself as she plays both Deb and a new character, Caitlyn, who is also a sentient patch of haze.
The newest production also features more physical theater and weaves in a hefty dose of audience participation, allowing the Night Vale cast to showcase their physical comedy and live performance chops.
"Because we've toured several shows," says Bashwiner, "we're really in a place now where we very much know what the show is and are exploring new ways to present it."
The latest tour comes on the coattails of the release of the second novel in the Night Vale universe — It Devours! The bright-yellow book, adorned with an illustration of a gaping maw, begins with a Beetlejuicean cold open that is sure to satisfy both longtime fans and newcomers to this peculiar little burg.
"It really ratchets up its work of character [and] its work of storytelling," Bashwiner notes. And if the first chapters are anything to go by, the book is certain to be seen clutched in the hands of many a weary traveller this holiday season.
Ultimately, despite the high casualty count across its many episodes, Night Vale in all its forms celebrates "love, community, family" and, of course, "weirdness." Whether or not you're already a listener, the live show is a can't-miss for optimistic weirdos of all stripes.
$25-$30, Tuesday, November 28, 8pm, The Aztec Theatre, 104 N. St. Mary's Street, (210) 812-4355, theaztectheatre.com.