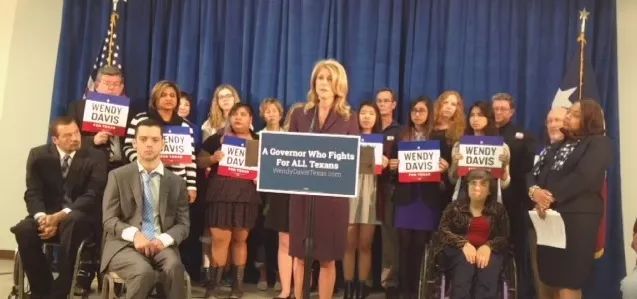 State Senator Wendy Davis speaks at a press conference in Forth Worth, Texas, on Monday, October 13, 2014.
In a Monday morning press conference, State Senator Wendy Davis, the Democratic candidate for Texas Governor, doubled down on the message of a campaign ad that lead to sharp criticism across the media this past weekend.
The 32-second spot, called "Justice," aimed to spotlight Republican gubernatorial candidate Greg Abbott's record of siding with the interests of big business and lobbyists at the expense of victims. When the ad was released on Friday, Abbott's campaign immediately cried foul for the ad's use of an empty wheelchair imagery meant to reference the Texas Attorney General's own disability. Abbott, who is paraplegic, won a $10 million insurance settlement when he sued a homeowner whose oak tree fell on him during a storm in 1984.
"It's her choice if she wants to attack a guy in a wheelchair. I don't think it's going to sell too well," Abbott told the San Antonio Express-News.
If weekend headlines were to be believed, Abbott was correct. The media mainly focused on the Davis campaigns use of an empty wheelchair, which many criticized as desperate and in poor taste. So Davis used her Monday morning press conference to reiterate the ads primary message, one that accuses Abbott of hypocrisy when it comes to victim advocacy in his roles as a justice on the State Supreme Court and as Texas Attorney General.
Flanked by persons with disabilities and a victim of sexual violence, Davis reiterated Abbott's record of not siding with victims in legal disputes, reiterating many of the anecdotes that were highlighted in her campaign ad, including Abbott's claim that a female amputee did not have a disability because she had the aid of a prosthetic. Davis also listed campaign contributions made to Abbott's past campaigns by the business community including $340,000 from payday lenders and $125,000 from the chemical industry. Abbott has sided with both industries in legal disputes as Texas Attorney General.
You can watch the press conference in it's entirety here.