Today, Sen. Wendy Davis made her debut...as a Lotería card.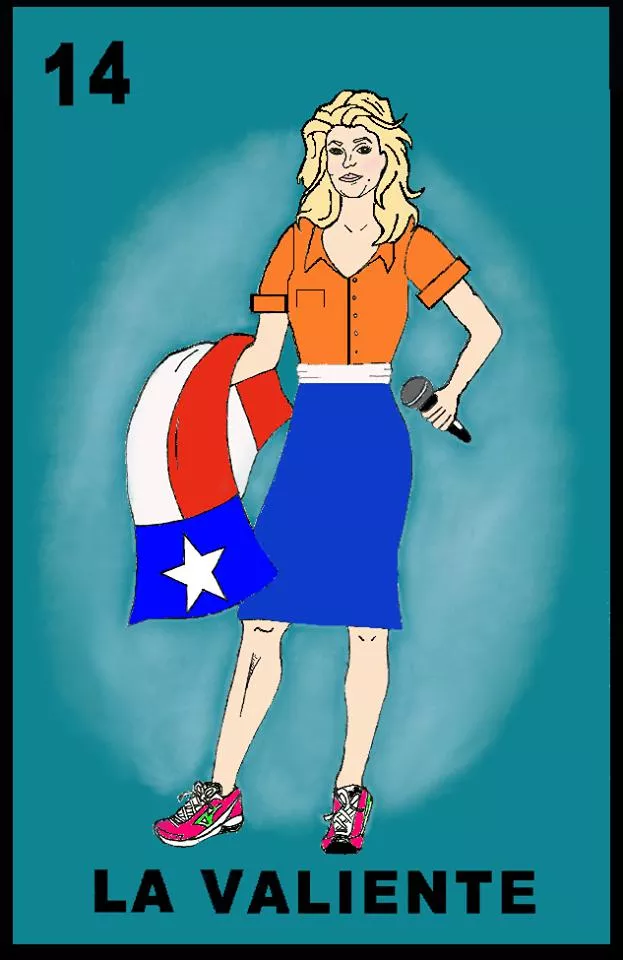 Courtesy of Pa'delante Tejas
An animation of the recently announced gubernatorial candidate graces card 14 of the Mexican lottery (albeit unofficially), a traditional Bingo-style game with iconic characters and objects. Holding the Texas flag in one hand and a microphone in the other, Davis dons an orange blouse– the color adopted by pro-choice activists in the fight against state anti-abortion laws– and her famous pink sneakers, worn during the 11-hour filibuster she mounted this summer in an effort to defeat House Bill 2. The card dubs Davis "La Valiente"– The Brave One.
The image is the brainchild of Ada Ortega, Latino media coordinator at The Texas Democratic Party. Ortega tells the Current she was inspired by a colleague who was part of Cuentame, an immigration-rights organization who used the Lotería card "La Mano"– The Hand.
"I thought about 'La Valiente' when I first started working for the TDP [...] And I said, wait, what do I think of when I think of Wendy? BRAVE. Here was this woman in a male-Republican dominated Legislature willing to stand for 13 hours and defend the rights of Texas women and families. It was iconic," she said.
So, Ortega commissioned a friend to draw a mock up of Wendy as El Valiente (originally depicted as a 'macho' male brandishing a machete) but in female form with a costume change. Instead of boots, says Ortega, "we wanted her with her famous tennis shoes. Instead of a sarape, we wanted her with the Texas flag. And instead of a machete, we had her with a microphone because it was the only thing she was able to use during her filibuster."
The image is being published through the TDP's new Latino Initiative campaign '
Pa'Delante Tejas'
.