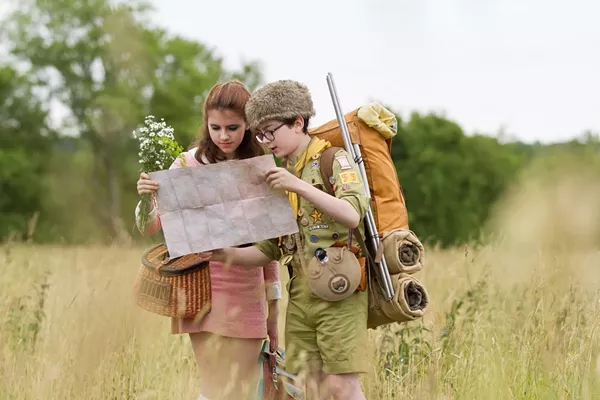 For the fourth installment of this summer's Wes Fest — a celebration of Wes Anderson's entire directorial catalog via free, outdoor screenings, and also one of Slab Cinema's best ideas ever — you can catch Anderson's seventh feature, 2012's
Moonrise Kingdom
, in the lush confines of the San Antonio Botanical Garden. A bright spot even in a particularly dazzling oeuvre,
Moonrise Kingdom
is an urgent coming-of-age tale rife with young love, stubborn pride, and familial/social dysfunction.
The movie, centered on troubled, 12-year-old protagonists Sam Shakusky and Suzy Bishop (played to admirable effect by young actors Jared Gilman and Kara Hayward), poignantly paints these young lovers, in all their tortured impulsiveness and directionless obsession, as somehow wiser (or at least happier) than the adults around them. In the world of
Moonrise Kingdom
, the adults' desperate resignation to their own dissatisfaction is posited as a fate worse than death or dismemberment. This cinematic gem also features Bill Murray, Bruce Willis, Edward Norton, Frances McDormand, Tilda Swinton and Jason Schwartzman.
Free, Fri Jun 29, gates at 6:30pm, film at dusk, San Antonio Botanical Garden, 555 Funston Pl., (210) 536-1400, wesandersonfilmfestival.com.

Get our top picks for the best events in San Antonio every Thursday morning. Sign up for our Events Newsletter.