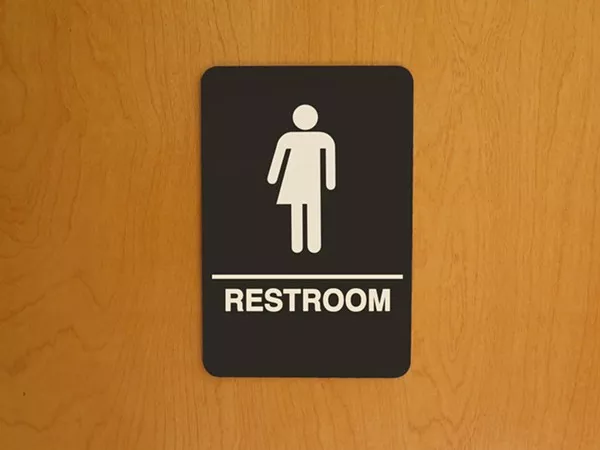 A
Thursday vote
in the North Carolina state House, followed shortly by Gov. Roy Cooper's signature, achieved what some are calling a "repeal" of the state's so-called "bathroom bill." While it comes with some contentious conditions (like a three-year ban on cities creating nondiscrimination ordinances), some say the bill's general purpose is a sign that anti-transgender bathroom laws — like the one currently being hashed out by Texas lawmakers — may bring more harm to a state than good.
North Carolina's House Bill 2 (HB2), signed into law a year ago by then-Gov. Pat McCrory, barred transgender people from using public bathrooms and locker rooms that do not match their birth certificates. It was the clear model that Texas lawmakers used to write Senate Bill 6 (SB6), a bill that's already survived a Senate vote and is now waiting for House approval.
Shortly after North Carolina's HB2 became law last March, major corporations, athletic organizations, and celebrities began using their checkbooks to show their opposition to the discriminatory bill. And, if what's going on in the NC general assembly says anything, it worked. North Carolina lawmakers attribute HB2's looming failure to the serious repercussions felt by the state economy in its wake — outlined Monday in a Associated Press report.
According to the wire service's
number-crunching
, North Carolina would have faced some $3.76 billion in lost business over the next dozen years if HB2 remained, thanks to the loss of PayPal, Adidas, NCAA, and Duestche Bank business (and others). By the end of 2017 alone, the state would haved lost more than $525 million and nearly 3,000 jobs.
Even though Texas' SB6 still lingers in the state House, just the threat of a North Carolina-style bill here has had an economic impact. San Antonio alone has lost a shot at $3 million from three organizations that were considering holding conventions in the city but scratched us off their lists because of SB6. Eight conventions already booked to visit San Antonio say they'll drop out if the bill becomes law — which would cost the city about $20 million.
At the state level, the Texas Association of Business estimated a total loss of $8.5 billion in a year — a number that's been
questioned by fact-checkers
. Regardless, if the NCAA decides to boycott Texas (like it's done in NC), San Antonio alone could
lose $200 million
in tourism and tax revenue.
According to Sen. Lois Kolkhorst, the Republican author of Texas' SB6, North Carolina's repeal and replace bill
is actually similar to SB6
— proving her bill's necessity. But Kolkhorst's bill would limit bathroom use based on "biological sex," and North Carolina's new bill explicitly repeals the law restricting people from using the bathroom that doesn't match their biological sex. The only real similarity is that North Carolina voted to keep public bathroom rule-making up to state legislators alone.
Chris Wallace, president of the Texas Association of Business, saw North Carolina's outcome a bit differently.
"The turmoil of the past year, coupled with today's action by North Carolina lawmakers should sent a loud and clear message to our own Texas Legislature: reject Senate Bill 6, a discriminatory and unnecessary bill that does nothing to address safety," he wrote in a Thursday statement.
If anything, the failure of the very bill Texas conservatives modeled their anti-trans bill on will likely impact how state representatives vote on SB6.