Growing up means not watching the MTV VMA's and instead going to a ridiculously fabulous dinner. At least it does for this gal. I capped off a week's worth of San Antonio Restaurant Week meals (you can check out extensions here) by attending
Alamo City Provisions
' first dinner of the fall inside the Josephine Theatre put on by
Inspired Occasions
founder Elise Broz (pastry chef at Biga on the Banks), John Russ (
Lüke San Antonio River Walk
), Pieter Sypesteyn (
Where Y'at food truck
and the upcoming Cookhouse), Michael Sohocki (
Restaurant Gwendolyn
, Kimura) along with Diego Galicia, Rico Torres and Jesse Torres of
Mixtli.
The 1920's Prohibition Era-themed feast, held inside the theater's lobby, included music by the Doc Watkins Trio and a brief presentation by the chefs on where they drew inspiration from for their dishes. Details for the four remaining dinners, held at various locales throughout SA, can be found at alamocityprovisions.com.
As always, follow me on Instagram for more food porn: @JessElizarraras.
@spiceseagourmet's ginormous catfish po boy for today's #restaurantweekonthemove going on until 2 pm @culinariasa #whatiate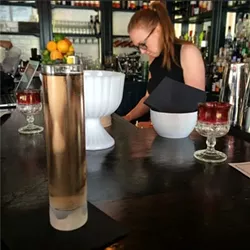 Visiting the folks at @sabarbaro. This is how I celebrate half days off. #whatidrank
A @thegranarysa visit for #rwsa with #toppel. Smoked wings, beef clod, buttermilk chess pie AND the always amazing beer and pretzel soft serve. #whatiate
Cheating on @rosellacoffee with @localcoffeesa this morning. #allthecoffee
A #sarw selfie at #citrus. Photobomb by @definingdelicious. Burger by @chef_driven #whatiate
Sigh. I love my job. What a fun evening. #satx @sacurrent @lonestarbeer #puppies
@curedatpearl for Friday's #sarw lunch...vanilla lime mint crush (plus vodka!), roast beef debris po'boy, wee amuse-bouche, and bread pudding. Not featured: asparagus onion soup which I ate too quickly. #whatiate
Post hike sustenance? Rolando's super taco with potato, egg and cheese, guac, beans and barbacoa. #whatiate (technically only finished half)
And a donut. #whatiate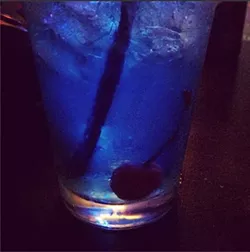 This is an #adiosmotherfucker. Bartender laughed at me and said, "Goodnight, sweetie."
First dinner w #alamocityprovisions #cocktailhour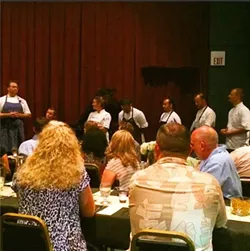 The chef lineup for the evening! @johnny_russ @mixtlicloud @whereyatsa @restgwen @the_cookhouse #elisebroz #alamocityprovisions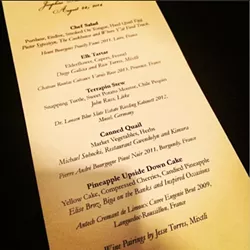 El menu. #alamocityprovisions
Chef Salad w purslane, endive, smoked ox tongue, hard quail egg via @whereyatsa @the_cookhouse #whatiate #vscocam
Elk tartar via @mixtlicloud w elderflower, capers y fennel #alamocityprovisions #whatiate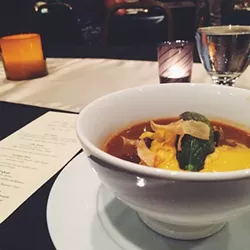 Terrapin stew. There's snapping turtle, sweet potato mousse & chile pequin via @johnny_russ #alamocityprovisions #whatiate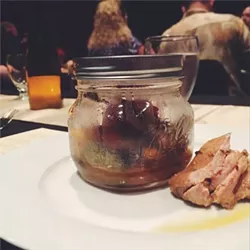 Canned quail w market veg and herbs via @restgwen #alamocityprovisions #whatiate
Pineapple upside down cake...whole other level. Via #inspiredoccasions #elisebroz #alamocityprovisions #whatiate
:) ?