Update: 2:10pm, September 8, 2014
Stay for the Food, the new food truck that is highlighted in this article, announced yesterday that they have closed. We have reached out to owners Daniel Dominguez and Samuel Wratten for comment.
Original story follows below:
I love finding new joints. I especially love when folks tell me about new joints (that are actually new, and not places I've already covered). So when a little birdie told me about a new, bitchin' food truck, I had to check it out. Stay For the Food is as awesome as its exterior is sparse. More details on them next week, but in the meantime, check out the bowl of ramen the guys whipped up. The menu changes very often, so get out there pronto.
Aside from stops at Big Bob's Burgers, TBA, Rosella and Sandbar, I also had a post-hike breakfast at Mimi's Barbacoa Tacos Tamales y Mas on Wurzbach. The menu is intimidating, everything looks delicious and their order counter is a bit rapid-fire (likely due to those hungry Sunday AM crowds).
Come hang out on Instagram with me: @JessElizarraras.
I mean, it's a sandwich.
Happy 1st birthday #BigBobsDT @bigbobs #burgers #sanantonio
Eating a ham sammich. Been eating too much bread lately, cough @rosellacoffee cough. #whatiate
Only the cool kids receive taco texts... #circleoftrust #tacotexts #sortapuro #tacotown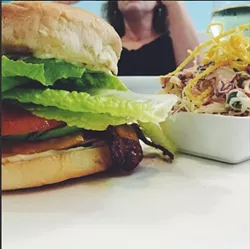 Goodbye lunch for @joymarie3 at #sandbar :( @sacurrent #whatiate
Pirate's Life for me via @yonsonjumol @tbasatx #whatidrank #fridayfunday
Sam & Daniel out of #StayForTheFood. Ordered up the duck ramen. #fridayfunday
Eff. Flavorful, mildly spicy broth, duck bits, fresh greens, 63-degree egg. I can't even. #whatiate #StayForTheFood
#texas #barbecue #bbq @smokeshack from @vane.elizarraras with @repostapp --- Roar!!! #bbq #sliders
Post-hike barbacoa by the pound at Mimi's on Wurzbach w @downtownsanantonio #whatiate
We got there just in time, too. Ben almost lost a hand for making a taco before I took a photo, but he was food styling so I'll let it slide. Mimi's is def worth a return visit, just be ready for "soup Nazi"-esque charm.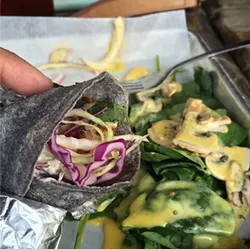 Blue corn tortillas!? #whoa #whatiate #thecove
@damnyouregis hooked this gal up with a wee bottle of #mezcal via #LaBotica in DF. ??(Insert emoji for maguey here)