It's not until just recently I learned the name of the taco truck that parks outside Hardbodies. El Regio often hits the spot when you're in the mood for tiny tacos, and it just so happens its on my way home.
Otherwise, I also enjoyed the new Lux Burger at the Luxury. Great patty, jamon, pickled jalapeños, guac, other fixings–it's definitely a must-have. As always, follow me on Instagram for more food porn: @JessElizarraras.
Spurs jersey cookies at @lilyscookies. #whatiate #gospursgo
Sucker Punch at #StayGolden #usavghana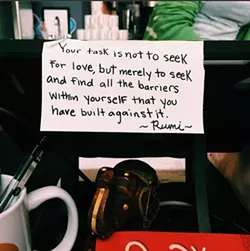 Powerful advice via @rosellacoffee's register.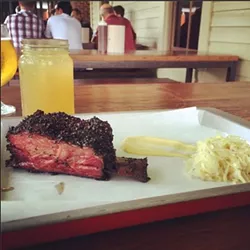 Pastrami rib for lunch with @sitztagram. It was huge and I couldn't finish it. That ginger peach soda tho.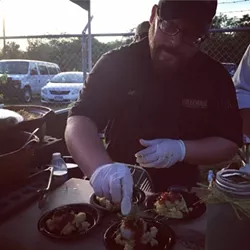 @boilerhousesa's Jeff White with the winning dish at tonight's #HotWellsHarvestFeast. Amazing scallop.
Total crush on @sugarfairy's peach raspberry pie w pickled peaches, raspberry fizzy chocolate, buttermilk ice cream & pie crust cookie. #hotwells #harvestfeast #fluffbakebar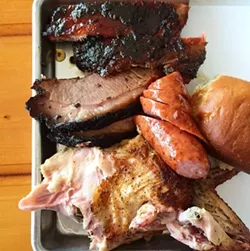 #Meatporn #meatsweats lunch at @smokeshack #whatiate #texas #barbecue #cue #brisket
Breakfast of champions via @bakery_lorraine & @rosellacoffee #whatiate #whatidrank
Buzzing classy means no hangover, correct? #askingforafriend #rose #bubblesinthebarrio
The Luxury has a burger!?? It's like the Mexican Burger at Sandbar and it's awesome.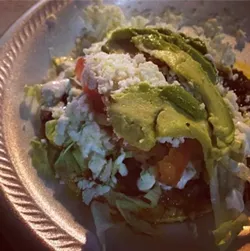 Pastor tostada from El Regio. Also, Regis' first time at the Hardbodies Taco Truck. #uptomyoldtricks #sanantonio #tacotown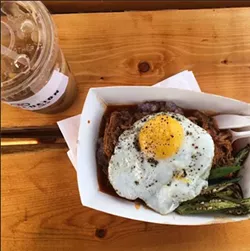 Bits and Grits via @locavoresa w sunny egg and charred okra. Breakfast of champions who went on a walk at Eisenhower Park. For dessert? A pop tart from @bakery_lorraine