Photo by Jaime Monzon
Frida Fest 2016
At the first San Antonio Frida Fest last July, hundreds of women with their hair braided in trenzas decorated with flowers showed up to wait in line at Brick in the Blue Star Arts Complex. Fridas of all shapes, sizes and ages dressed up in colorful and intriguing clothing in homage to the Mexican artist whose tortuous, tempestuous life is celebrated by the cult of "Fridamania."
Waits lasted more than an hour to get into the first Frida Fest and many people were turned away, but organizer Fred-Anthony Garza said that shouldn't be a problem for this year's expanded Frida Fest, to be hosted by Que Retro Arts and Viva Vegería at Wonderland of the Americas from noon to 9 p.m. on Saturday, July 15. Admission and parking are free.
"Frida Fest is a grassroots, community-run event and we were just blown away by the response last year," Garza said. "So we've been working and planning for the past year to make a bigger, better event. We'll have more than 50 vendors offering one-of-a-kind arts and crafts, plus an art gallery, fashion, special food and live performances. We'll be indoors with air conditioning and a lot more room for people to celebrate Frida's life and art."
Photo by Jaime Monzon
Frida Fest 2016
However, this year the Kahlo family of Mexico City will be involved in vetting and approving Frida Fest participants.
"The family found out about the first Frida Fest through social media and wanted some say because licensing of her image is a real concern for them," Garza said. "But we're glad to have them involved. We are telling vendors to come up with original work and to avoid the kind of cheap knock-offs of her work that have become so common."
While her brooding gaze, elaborate Tehuana coiffures and signature unibrow have become almost as familiar as Mickey Mouse, the second Frida Fest is encouraging fans to take an original approach, using Kahlo's life as a model for the theme "A View of Our Own Reality."
Exhibit curator Kristel Puente, a San Antonio photographer, said she looked for artists who went "further and deeper," rather than simply copying or mimicking Kahlo's style.
"As a dark-skinned woman of Mexican heritage, Frida Kahlo was a revelation for me," Puente said. "Seeing her images and paintings was the first time I saw someone like me in a museum. Her life reflected my life, from her sexuality to using clothing to hide her disabilities. She was an activist who continues to inspire activists today. So I wanted to put together an exhibit that celebrates her life and spirit, but with artists who have their own, unique, original vision."
Paintings, photography and three-dimensional work will be featured in the storefront exhibit that will be on view only during Frida Fest. — Dan Goddard

Catch Mariachi Flor de Jalisco at Frida Fest

Formed in 2011 under the direction of Debra Torres, San Antonio's all-female troupe Mariachi Flor de Jalisco will showcase their talents at this Saturday's Frida Fest. Having entertained at numerous high-profile affairs, including events for actress Eva Longoria and Namibian Prime Minister Hage Geingob, Mariachi Flor de Jalisco is best known for their performances at Spurs games but maintain a consistent involvement in the city's live music and mariachi culture. Be sure to catch them this weekend, along with fellow entertainers El Tallercito de Son, Grupo Folkórico de Bendiciones and Conjunto Mismo Sol.
— Sierra Juarez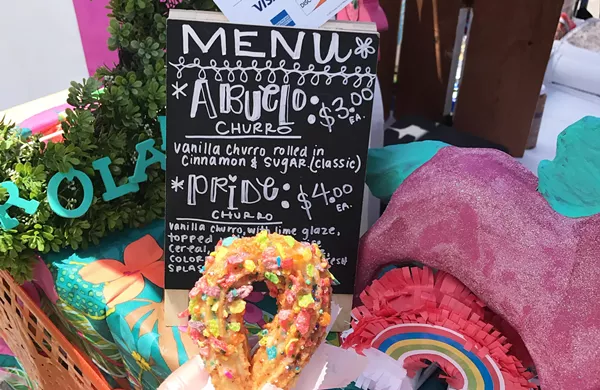 Alice in Churroland
Though Frida and Diego might be well known for both their art and tempestuous relationship, only half of that sentiment applies to Bre Romo and Miguel Maldonado. As owners of newly launched Alice in Churroland, Romo and Maldonado's story leans a lot more magical. The two met while interning at Disney World — Romo, a San Antonio native, tackled whimsical cakes and pastries while Maldonado, who hails from Minnesota, worked as a line cook in the Magic Kingdom. Though Maldonado went back to Minnesota to work in Minneapolis' bustling kitchens, the two eventually reconnected and that Disney magic was rekindled. These days, the pair has relocated to Texas, where they're sharing their love of cooking and flavors in churro form. With an early nod from wedding website The Knot, Alice in Churroland is already off to a great start as they fry up vegan churros available in mini, traditional and loop form. What sets Romo and Maldonado's product apart is their colorful takes on the Mexican staple such as their lime-glazed Fruity Pebble-sprinkled loop churro created for Pride. Though they're still fleshing out their menu for Frida Fest, expect vibrant colors similar to Kahlo's and maybe even a hint of spice. Churros are priced at $3 for traditional, but prices vary. — Jessica Elizarraras