It's  day two of Contemporary Art Month. During CAM we will be posting a mystery art pic  every  day (we hope) here at Artifacts. What is it? Where is it? We'll get back to you on that
..if you know,  just leave a note below.
Here is a full view of yesterday's pic-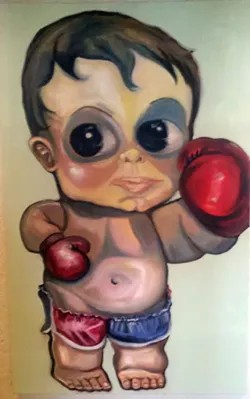 The painting is by Thedra Cullar-Ledford, a Houston painter whose work is on view at  Hilton Palacio Del Rio as part of  10 Houston artists: An Invasion of Space (presented by G Gallery). The temporary art show, organized with assistance from SMART, isn't your usual hotel art.
On view are works by  Linda Hofheinz, Bill Hailey, Rahul Mitra, Brent Kollock, Chasity Porter, J. Todd Allison, Wayne Gilbert, Joseph Wooten, Morgan Sorne and Thedra Cullar-Ledford.
Info about G Gallery here.