Saturday's Drink Beer Day (no, seriously), so here's a list of places around town to fill up your growler with wonderful, delicious beer.
Alamo Drafthouse Westlakes/Park North/Stone Oak: Fill up your growler even if you're not watching a movie. Call ahead for details, but the prices usually range from $14/$30 for refills.
Whole Foods Market-Vineyard, 18403 Blanco. Saddle up to Bar Blanco and fill your growlers up with craft brews curated by the staff at Whole Foods. Hint: The Quarry location has a bar of its own in the works.
Big Hops Growler Station, 8313 Broadway. BHG will fill any growler of any size up to one gallon. The pub also sells 32 and 64 ounce growlers for purchase;including a $30 ($40 when filled) 64-ounce flip-top "badass growler." Most refills range from $7-$9 for 32-ounce growlers and $14-$18 for 64-ounce growlers.
Blue Star Brewing Co., 1414 S Alamo. The Southtown brewery will fill any 64-ounce growler of any kind for $14. They also carry $50 64-ounce stainless steel double-walled "Braulers," and $14 32-ounce medicine bottles, $8 for refills.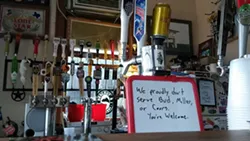 Filling Station Tap Room, 701 S St Mary's St. Visit the teensy tap room and fill up on craft brews from any of the 12 taps. Prices range from $14 to $18 usually. The Tap Room doesn't sell its own growler for filling, but will fill any size growler.
Freetail Brewing Co., 4035 North Loop 1604 W #105. The staff will fill any 64-ounce growler no matter its origin. Prices ranges, but you can get a growler refill for most of their beers for around $11. Or stop by on Sunday for $2 any refill.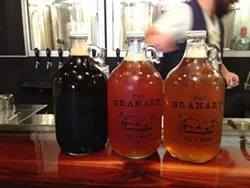 The Granary 'Cue & Brew, 602 Avenue A. Football fans can try any of The Granary's house-made brews to-go every Saturday during the season with $3 off house beer refills and $5 off a new Granary growler purchase and house beer fill.