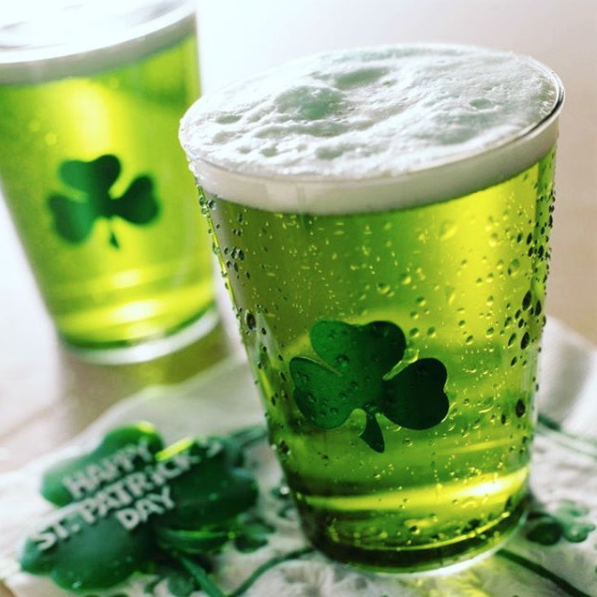 You may not be Irish, but you can still get dressed in green and slam back your share of beer in honor of St. Paddy's Day. Here in San Antonio, there are plenty of ways to get in the green (and gold) spirit.
Brass Monkey //
Y'all already know that Brass Monkey is going all out for St. Paddy's. This '80s edition party (dress accordingly) will feature $2 cherry vodka sours all night and a money drop at 1am.
No cover, 21+, 10pm-2am, 2702 N. Saint Mary's St., (210) 480-4722 (call for reservations).
Brews Brothers //
If drink specials aren't enough to entice you to this parking lot party, Brews Brothers will also have a dunk booth, giant Jenga and cornhole. Oh, plus live music and food vendors.
No cover, noon, 7403 Leslie Road, (915) 261-4140.


Bud Light St. Patrick's Day Parade //
This family-friendly event has been a city-wide tradition since 1968 and is the perfect chance for kids to take part in the St. Paddy's festivities. The procession will include 14 decorated floats with Irish entertainment, including several bagpipers.
Free, 4-6pm, River Walk, 110 Broadway, (210) 227-4262.
Burleson Yard Beer Garden //
"Wear green. Get rowdy. Leave lucky." Follow the rules of Burleson Yard and be ready to party it up with great food, green beer and live music. Anthony Wright Trio and Monkeys On A String will take the stage, while DJ XBoyRD will play up tunes throughout the day.
$5 cover, noon-2am, 430 Austin St., (210) 354-3001.
Burnhouse //
This St. Paddy's Day party will have wicked drink specials with $100 bottles of Jameson, $3 Jameson drinks, $3 Guinness and $2 green beer. DJ Richie Rich and DJ M.CUE will provide the tunes.
No cover, 2pm-2am, 4553 N Loop 1604 #1229, (210) 957-1670.
Dorćol Distilling + Brewing Co. //
Dorćol is skipping out on the fake green beer and is celebrating the "National Drinking Holiday" with its HighWheel Irish Red Ale, with a rich malty sweetness with accents of toffee and toast.
No cover, 5pm-1am, 1902 S. Flores St., (210) 229-0607.

Francis Bogside //
This Irish gastropub is opening at 9am so you can get your proper Irish breakfast. Oh, and there will be specials for $3.50 Irish mules, $5 imperial pints of Guinness, $5 Smithwick's Irish Ale and $4 shots of Jameson.
No cover, 9am-2am, 803 S. Saint Mary's St., (210) 369-9192.

Grayze //
While the restaurant will be running specials all week, you should definitely make a reservation for Saturday to enjoy Irish treats like BBQ brisket and grilled cabbage sliders with Guinness mustard, the Reuben burger with corned beef, Shetland dressing, sauerkraut and Swiss cheese on a rye buttered burger bun, or the Green Velvet pistachio cupcakes with Bailey's frosting.
No cover, 11am-10pm, 521 E. Grayson St., (210) 481-8776.
Groove House //
The bar & grill will have its own "Leprejuan" (*cringe*) tossing gold coins throughout the day and drink specials on Guinness, Jameson and Irish car bombs. Plus, you can try the very special green queso?!
No cover, 4pm-2am, 12333 West Ave., (210) 598-2083.
The Hangar //
On top of the usual drink specials, The Hangar will offer up green beer and Jello shots. To make it even better, there will also be bagpipes and DJs.
No cover, 11am-2am, 8203 Broadway, (210) 824-2700.
Howl at the Moon //
Stop by for $4 green Bud Lights, $8 Jameson car bombs and $14 32 oz. green tea mini-buckets.
No cover, 3-7pm, 111 W Crockett St., Ste. 201, (210) 212-4770.
Krispy Kreme //
While these donuts aren't boozy, they are green and just in time for St. Paddy's Day. The chain will serve green "O'riginal" donuts on Friday and Saturday. These special treats are made with green coloring but taste the same as the original rendition.
$1, multiple locations, krispykreme.com.

Little Woodrow's – Babcock //
Order up your usual drinks and enjoy live music from Venice Queen (Red Hot Chili Peppers cover band), Kings of Leon Valley (Kings of Leon cover band) and Crossfire (classic rock covers).
No cover, 5-8pm, 2535 Babcock Road, (210) 692-1500.
Main Street Bar //
Enjoy drink specials and live music by Wicked Season (8:30 p.m.). This patio will be hard to leave.
No cover, 2pm-2am, 13477 Wetmore Road, (210) 490-3038.
McDonald's //
The burger chain is coming through with its famous Shamrock Shake for a limited time.
$2.19-$2.99, multiple locations, mcdonalds.com.
O'Malley's Irish Pub //
Stay true to Irish culture and party it up at this pub, which will dish out $2.50 Guinness cans, $3.50 snake bites and $4.50 angry balls.
No cover, 2pm-2am, 8637 Fredericksburg Road Ste. 135, (210) 561-9665.
The Rustic //
Pre-game at The General Public beginning at 5pm, then make your way to The Rustic at 7pm for a live performance from country star (and co-owner of The Rustic) Pat Green.
$27-$150, 7pm, 17619 La Cantera Pkwy., (210) 245-7500, therustic.com.
The Safe House Drinkery //
This Northwest Side drinking spot will serve up $2.50 Western Son as well as $3 Guinness and $3 Knob Creek.
No cover, 2pm-2am, 5450 Babcock Road #140, (210) 561-9743.
St. Patrick's Day Irish Festival //
This two-day fest is perfect for Texans wanting to learn a bit more about the Irish culture. Celebrations include Irish beer and fare as well as arts and crafts. A "Passport to Ireland" area will offer genealogy information, an interactive Irish map, history of early Irish Texans and even an intro to the Gaelic language.
Free, Friday, March 16-Saturday, March 17, noon-8pm, La Villita Historic Arts Village, 418 Villita St., (210) 207-8614.
Sparky's Pub //
This pub is doing right by its Irish roots with green beer, Irish Whiskey, cocktails and other treats.
No cover, 9pm-2am, 1416 N. Main Ave., (210) 320-5111.
The Winchester //
Get started early here, where doors open at 8 a.m. The block party will kick off at 11 a.m. in the back parking lot. Drink specials, live music, DJs, food vendors and green beer, The Winchester will have it all.
No cover, 8am-2am, 5148 Broadway, (210) 721-7762.


Whiskey Tree //
Drink specials include $1.51 beers and $2 shots to wash down half-price appetizers. The Hit List will provide live music from 3pm to 6pm with Brody in the Mix taking over from 10pm to 2am.
No cover, noon-2am, 7905 Bandera Road #3, (210) 758-5376.

So many restaurants, so little time. Find out the latest San Antonio dining news with our Flavor Friday Newsletter.